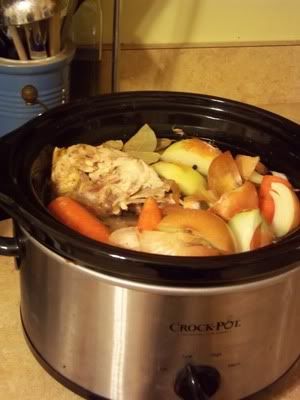 If my
traditional stove-top method of making chicken stock
is a bit much for you, then here is a fast and easy method to try in your crock pot. I like this method because you can do it with any leftover chicken skin and bones, so it is a great use for a picked over roasted or rotisserie chicken, or for all of the bits left from bone-in chicken breasts or drumsticks. I've also simplified the recipe making it easy to memorize if you are so inclined.
This simple, fast stock works well if frozen in various size containers. I use mostly pints and quarts and keep them in the door of my deep freeze.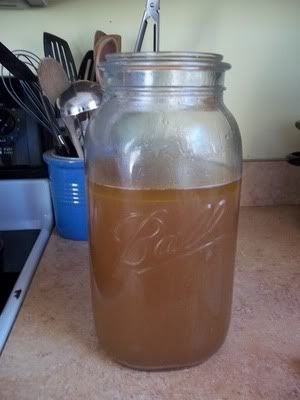 Crock Pot Chicken Stock
bits and pieces from your leftover chicken carcass - meat removed for another use
2 large carrots, scrubbed clean and broken in half
2 large ribs of celery, also cleaned and broken in half - adding the leaves is good
2 medium onions, quartered (leave the skins on)
2 bay leaves
1/2 c. fresh parsley (or 2 Tbs. dried)
1 tsp. salt
a teaspoon of whole peppercorns
a splash of apple cider vinegar (optional, but it helps leech out all of the healthy stuff into the broth)
just enough water to cover
Do you see the 2-thing going on with the vegetables? That is an easy way to remember how much to throw in.
Fill up your crock pot with all of these goodies, set it on low for about 8 hours.
Once it is done, strain the broth through a sieve and discard the chicken and vegetables.
Refrigerate the broth and once it has cooled, skim the fat off of the top. Pack your broth into containers and use within a couple of days or freeze for future use.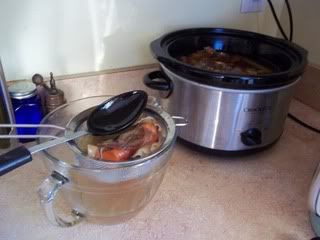 Pin It