Fresh from the Orchard!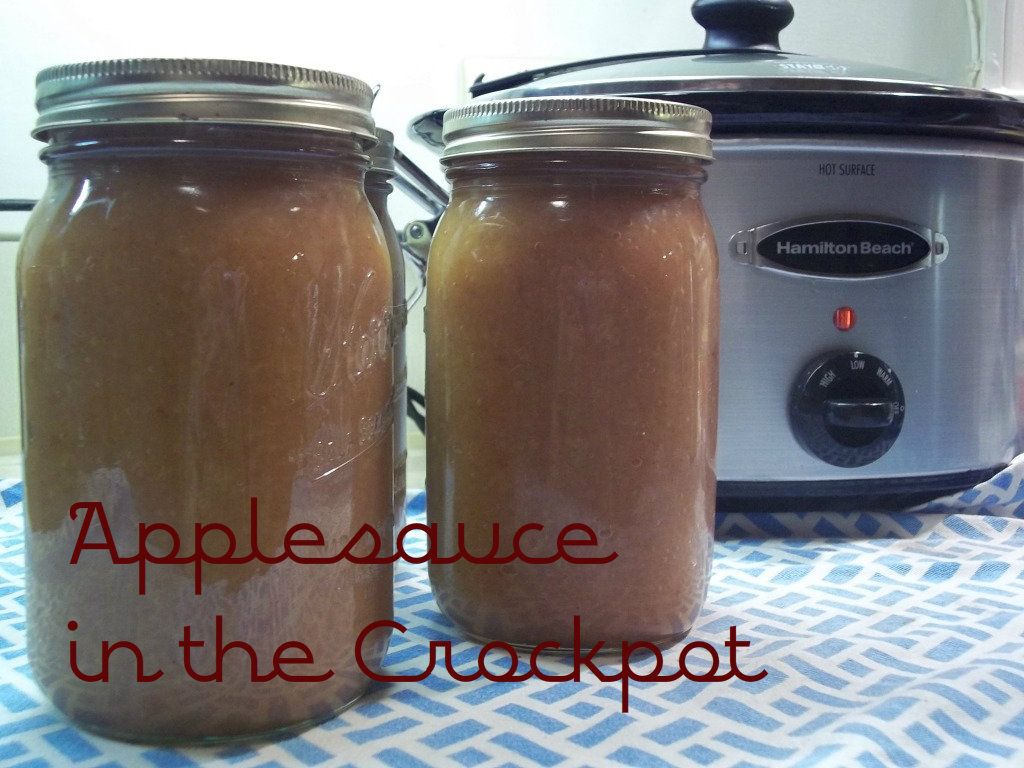 The (delicious) End Result
Ingredients:
24 large apples
1/2 c. water
2 tbs. bottled lemon juice
1/4 c. to 1 1/2 c. sugar
2 tsp. cinnamon
1/2 tsp. nutmeg
1 tsp. vanilla

Directions:
Peel, core, and thinly slice apples. Put apples into a large pot with water and lemon juice. Cook, covered with a lid until tender, about 20-25 min., stirring occasionally OR cook on high in a crock pot for about 4 hours. When apples are tender, chop coarsely with a metal spoon (or potato masher). Add sugar 1/4 c. at a time until you reach your preferred sweetness. (You may substitute light brown sugar for a rich maple-like flavor.) Add cinnamon, nutmeg, and vanilla and continue to cook until sugar dissolves. Spoon into hot jars (prepared according to directions) to within 1/2" of top. Release air bubbles, clean rims, and seal. Process in a water bath canner for 20 minutes for pints, and 30 minutes for quarts.
For more information about Home Canning,
see this post
.
Number of Servings: Makes about 5 pints.

If you get a food mill, you will save loads of time, and the kids can help! We make applesauce almost every year, so it has been a great investment.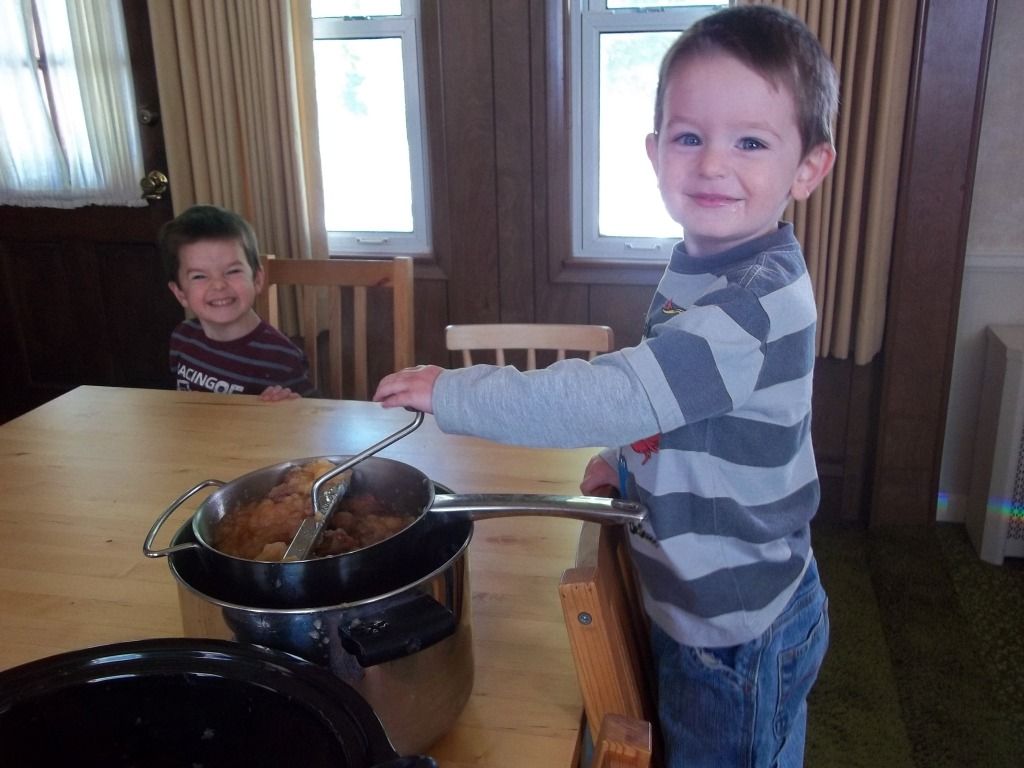 Preparation Variation for Smooth Applesauce:
Fill a large crockpot with whole, small apples. Wash first, but no other prep is necessary for them. Add the water & lemon juice and cook on high for 4 hours, or low for 8. Run the apples through a food mill. Add the sugar, cinnamon, nutmeg & vanilla to the pulp and stir until it dissolves.

ENJOY!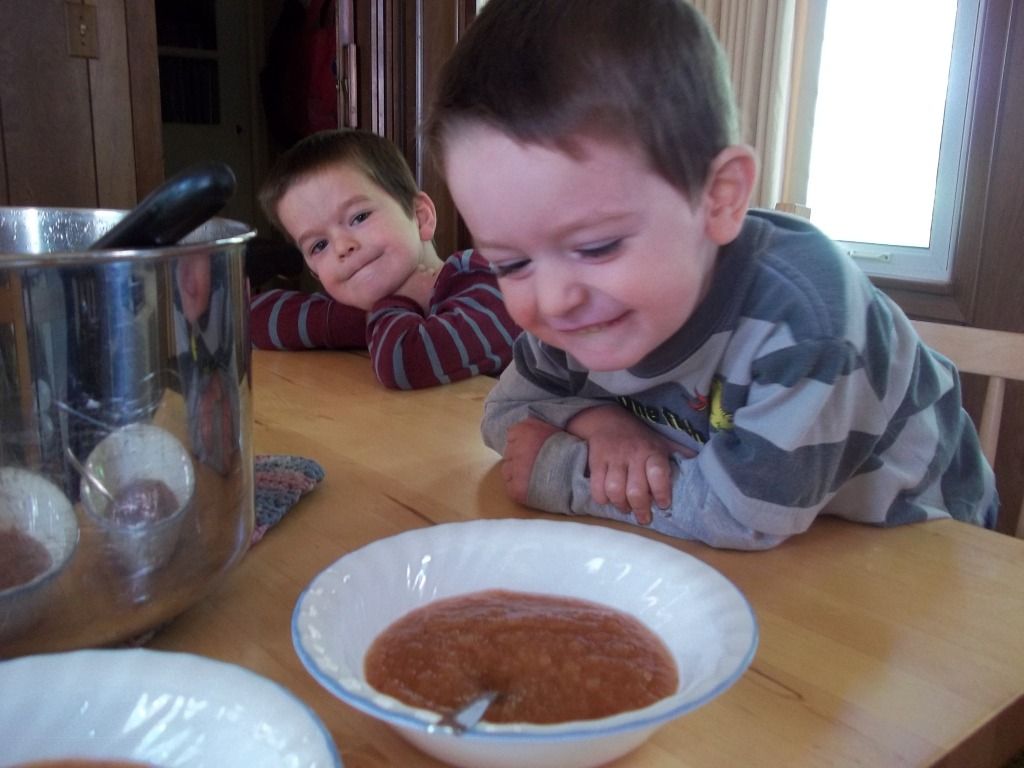 - - - - - - - - - - - - - - - - - - - - - - - - - - - - - - - -

For Apple Butter:
Fill a large crockpot with whole, small apples. Wash first, but no other prep is necessary for them. Add 2 c. water and cook on high for 4 hours or low for 8. Run the apples through a food mill. Rinse out your crock pot. Measure 2 qts. apple pulp and put it back into the crock pot. Add 2 c. sugar, 2 tsp. cinnamon, and 1/4 tsp. cloves. Cook on high another 4 hours or low another 8, leaving the lid off for the last 2-3 hours. The mixture should thicken and reduce quite a bit. Ladle hot apple butter into hot jars, leaving 1/4" headspace. Remove air bubbles. Cap and process for 10 minutes in a water bath canner. (If the butter becomes too thick, add water or apple juice until you reach the desired consistency. This has never happened for me though.)

(I had a great system one year where every night I would put the apples in to cook. In the morning, I would run them through the food mill and put it back in the crock pot to cook. I would process the jars each afternoon. It was a good system!)
Pin It