If you are interested in following along with our Character Quality studies, we'd love to have you join us! In this post, I'm going to explain the system I have come up with that is
working for us at this moment in time,
but please feel free to adapt any of this for your own preferences or needs. We have a pre-school child and a toddler, so I teach to their level, but any of this can be easily adapted. As I said,
I think I'm learning more than anyone,
so this study doesn't have to be just for your kids!
We are adding a new character quality each week and I am adapting character qualities from
this list
. I'm simplifying some of the language for my Littles and I also added the Fruits of the Spirit. There are 52 qualities in all, so by the end, I hope to have an entire year's worth of studies.
We have been having a daily "Bible Time" after breakfast cleanup is finished. I keep it between 10-15 minutes. We pull out a blanket for the floor and clear the area of distracting books and toys for this time. The Littles have the choice of sitting on the blanket or on the bottom stair just behind the blanket. I don't insist that they sit perfectly still, but I do train them to stay in one place or the other. (This is good practice for sitting in Bible classes and assemblies with other Christians both in our home and in our meeting place.) Other than the blanket, I keep a Bible handy for each of us, and that is all we need as far as materials go.
Right now, the daily Bible Time routine goes something like this:
Recite Deuteronomy 6:5-6 with hand motions
Sing "We Are Part of the Family" from a collection of wonderful Bible songs called, Each Little Dewdrop
(The CD is for sale here - we especially like it because it features children singing)
The body of the lesson happens here***
I ask, "How did God create you?" answer - "In His image" (Genesis 1:27)
"Why did God create you and all things?" answer - "For His own Glory!" (Isaiah 43:7) Then we sing the song I wrote to illustrate this: For His Own Glory
And lastly ask, "How will you bring Him glory today?"
Then we all sing "Jesus Loves Me" - one verse or many
*** For the body of the lesson, I do different things on different days:
Monday - Introduce the character quality for the week and we talk about the definition, and the corresponding Bible verse
Tuesday - we do a Bible story and I try to tie in something with our weekly character quality
Wednesday - Review our Bible class lesson from Sunday
Thursday - Review the Bible story from Tuesday and our weekly character quality
Friday - Review our Bible class lesson from Sunday
I am printing out an extra large index card for each character quality that looks like this:
As you see, the character quality is in large, bold letters on the left, while the opposite quality is in small letters on the right. (The opposite qualities are every bit as valuable, I am finding!) Next comes the definition, and finally, a corresponding Bible verse. I plan to laminate these when I am finished, as we would like to continue this yearly cycle. I like hand writing them out, but you can certainly make use of your printer. I would suggest printing on card stock for the sake of durability.
At one end of our dining table, we put up a white board/bulletin board combo. On the white board, we intend to keep a prayer list... still working on that one. I tack up the character quality card of the week on the cork section. Big Littles asked to keep "love" up there, so we did, at least for now. This makes it handy to review our character quality, definitions, and Bible verses at meal times.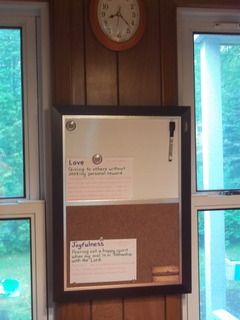 So that's basically what we do. It's simple, really. The hardest part is building the habit into our days... but the Littles are very helpful with that one! They are quick to remind us when we forget! :)
Do you have any special routines for some kind of Bible Time at your house? I'm always open for new ideas!
Character Quality Studies posted so far:
Love
Joyfulness
Peaceable
Patience
Kindness
Pin It