Big Littles: Looking at his plate... "When there is grass on it, I just brush it off."
The grass was kale. :P
A couple of years ago, I discovered
couscous
and it became an instant favorite in our house! It was a delicious, light summer lunch that provided for endless variations, and became an excellent vehicle for getting our toddler to eat broccoli. I still love couscous - it is tasty, and you can't beat it for speed. The problem is that it is not the healthiest choice out there. It is really just tiny pasta. Tiny white pasta. And white pasta is ok, but there are definitely healthier choices out there.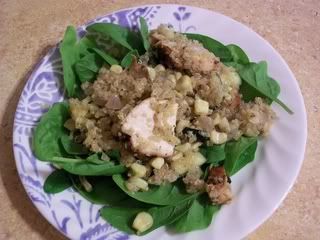 And then
QUINOA
entered our lives and I've been singing its praises ever since! Quinoa is the queen of whole grains, and it is naturally packed with protein. A salad made of quinoa is going to stick with you for a long time! I find that quinoa and couscous can be used interchangeably, so quinoa is my new vehicle for getting the Littles to eat their veggies. With the delicious, buttery taste, they don't even know how good it is for them.
Couscous can be ready in 10 minutes flat! Quinoa... not so much! It takes a little more preparation and cook time. If you skip these couple of steps, your quinoa will still taste great, but it will be hard on your digestive system. (Yeah... we learned that one the hard way! I'll spare you the details.)
1 c. quinoa
3 c. water
pinch of salt
Approximately 7-12 hours before you want to eat your quinoa salad, put the grains into a fine mesh strainer and run under water for a couple of minutes to rinse thoroughly. Put the quinoa into a stainless steel pot with the water and let it sit out at room temperature for the day. After it has soaked, add the salt and bring to a boil. Cover with a lid and reduce the heat to simmer. Simmer for about 15-20 minutes or until it is tender. Drain before serving.
Now for the veggies -
a few Tbs. olive oil
1 diced onion (red onion is delicious, vidalias are also a treat!)
3 lg. cloves minced garlic
1 med. diced zucchini or yellow squash*
1 ear grilled corn - cut from the cob*
1 lg. grilled chicken breast - sliced thin (optional)

chives or green onions (optional)

diced tomato or halved cherry tomatoes*
2 Tbs. pine nuts (optional)

1/2 tsp. cumin
1 tsp. dried oregano
salt and pepper to taste
may serve over a bed of fresh baby spinach

(Feel free to swap out whatever veggies you have on hand, using whatever is in season. Other delicious variations for the * veggies = carrot, bell pepper, broccoli, spinach or kale cut in a chiffonade.)
H
eat the olive oil in a saucepan over medium heat. Saute the onion until it turns golden brown. Add the garlic, and cook until the garlic softens. Add the zucchini and any other veggies you decide to try and stir fry until tender. Near the end, add your grilled corn, pine nuts, grilled chicken, chives, tomatoes and seasonings. Serve over a bed of fresh baby spinach if you like. Parmesan adds a nice touch.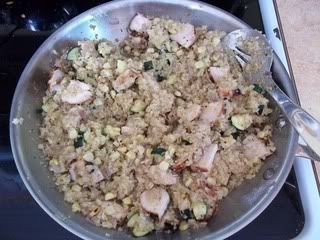 Beautiful, isn't it? And so colorful!

Suggestion: The grilled chicken/corn really is amazing in this, but don't haul out the grill just for one ear of corn and a chicken breast... do some batch grilling! Grill corn/chicken for dinner one night and save some for your quinoa salad for the next day.

This may be eaten warm, room temp. or cold. Perfect picnic food!

Now don't you feel virtuous just thinking of eating these delicious veggies and good for you grains?

*happy sigh*

This post is part of the Four Moms Picnic Linkup.