After two months away, I'm finally back! I'm really excited to get into blogging again because I'm just bursting with so many things to share. :)
While I was gone, both Blogger and PhotoBucket made major changes, so I feel like I'm stumbling through trying to re-learn everything.
I have also decided to reveal just a little bit more about myself on my
About Me
page. My real name is Heather and this is what I look like: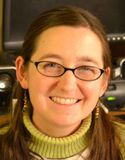 See? I'm a relatively normal looking person...
Now when you get to know me... HA!
Preacher Man just took on a new work, preaching for a small and relatively new group of Christians meeting in a city in New York State. He is excited about the work and the potential for evangelism. We are adjusting to depending upon outside support in a tenuous economy. We no longer live in a parsonage, but are renting a cute little house in the city with just enough land to plant a garden and let the Littles play outside. We really do love this house and I hope to post some pictures soon. I'm getting used to having way too many options for shopping and having to actually DRIVE to Bible study among other things. :)
A huge recent accomplishment for our family is that we are now 100% DEBT FREE!!! We've had so many ups and downs to get to this point... EXPENSIVE birth(s), career changes, car issues... so many, many hurdles to overcome, but we finally wrote the check to pay off the last of our student loans. I would have to really dig for the paperwork to find out how much we paid off altogether. It was a lot, though, and it was all student loans and medical bills. We've still had so much up in the air financially that it has been hard to really *enjoy* this financial freedom, but I think I'm starting to come around. This is a REALLY good thing.
So I'm very happy to be back, blogging from a new locale, refreshed and bursting with ideas. I hope to share some pictures of our new home soon.
Blessings to you, my friends!
Pin It