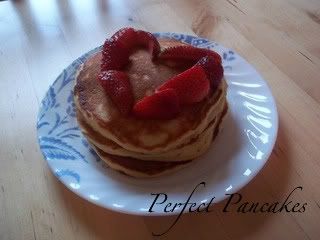 Would you like to try the best blueberry pancakes in New York City?
You can! Right at home! The recipe is right here!
Or here:
(That is an Amazon affiliate link by the way.)
My wonderful MIL got me this cookbook for my birthday last year and it is full of delicious brunch recipes. Following the directions in this book, I have finally learned how to make the most perfect roll out biscuits AND the best pancakes in New York City!
What is the secret to perfect pancakes?

Separating the egg whites and whipping them into medium peaks before folding them into the batter.
Yep. That's the secret. In full disclosure, the one drawback to this method is that it makes me wash three large bowls when all is said and done instead of one. But it is sooooo worth it! Most pancake recipes call for a large amount of baking powder to make them fluffy, but baking powder leaves a metallic flavor. This recipe by Neil Kleinberg uses a fraction of the baking powder and relies upon the egg whites to give the pancakes their fluff. The result is oh-so-delicious!
Here's a picture of the batter with the egg whites gently folded in like puffy little clouds: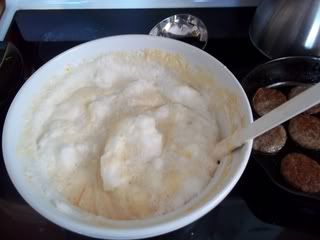 Some other tips to help you achieve pancake perfection:
Don't over mix the batter. According to The Pancake Master (aka - Mr. Kleinberg), too much mixing makes them tough. Lumpy batter is good. Really!

Get your griddle nice and hot!
Flip them when the edges start to look a little dry and you can see all the way through the bubbles that form in the middle of the pancake like so: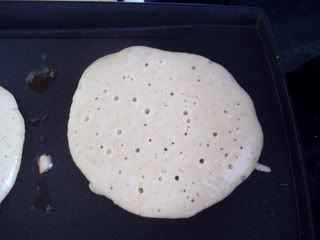 See? Perfectly golden brown!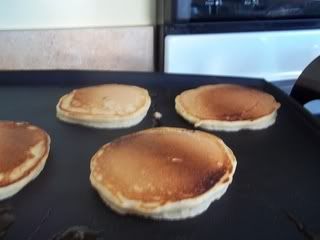 If you have something you want to mix into your pancakes like blueberries, nuts, or chocolate chips,

don't mix them into your batter!

As you spoon your batter onto the griddle, sprinkle your goodies right on top of each pancake. Trust me on this one, you will get perfect little pockets for the maple syrup to ooze in.
Speaking of... Use REAL maple syrup!! I can usually find it for a good price on Amazon when we are running low. We like B grade the best.

Now, the recipe:
4 cups all-purpose flour
1 tablespoon baking powder, plus 1 teaspoon
¾ cup sugar
1 teaspoon salt
6 large eggs, separated
3 cups whole milk
¾ cup (12 tablespoons) unsalted butter, melted, plus 2 teaspoons unmelted for the griddle
1 teaspoon vanilla extract
Combine the dry ingredients into a large mixing bowl: flour, baking powder, sugar, salt.
In another bowl, whisk together the yolks, milk, melted butter, and vanilla until combined. Whisk the wet mixture into the dry mixture. The result should be slightly lumpy, yet combined to form a batter.
Whip the egg whites in a medium mixing bowl until they reach medium peaks. (I use a KitchenAid stand mixer and beat them until they are good and foamy, but still soft in the middle.)

Gently mix the egg whites into the batter with a large rubber spatula. Remember: this batter should be slightly lumpy and have large parts of egg whites not fully incorporated; it should look like whitecaps in the ocean with foam on top. (The batter will last a few hours in the fridge without deflating too much.)
Heat a griddle — either an electric griddle, a stovetop griddle, or a big flat pan — to 350 to 375°F. Grease the hot griddle with the remaining butter. Drop about 1/3 cup of pancake batter on the griddle and cook to set.

When the pancake is golden brown on both sides, remove with a spatula. Repeat with the remaining batter and filling, cooking several pancakes at a time.

Now the fun part: Garnish with confectioners' sugar, cinnamon sugar, warm Maple Butter (mix equal parts melted butter and maple syrup), fruit, or whatever brings delight into your sweetheart's heart. February is
"Pancake Month" at The Clinton Street Bakery
and they feature special gourmet toppings every day. Their most popular topping? Carmelized pineapple, roasted macadamia nuts and toasted coconut.
Sign me up for a short stack of those, please!!!
Pin It