It's Potluck Saturday! And we're having fun with mushrooms!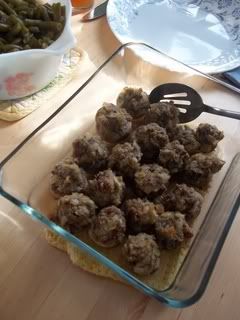 Do you like mushrooms? I never liked them as a child, but they have really grown on me. These are my three favorite ways to eat mushrooms:
Blue Bacon Stuffed Mushrooms
from AllRecipes make a delicious appetizer. I made these for a holiday dinner and they were a huge hit.
Looking for a special homemade Valentine's dinner for two? Try these
steaks topped with scrumptious, winey, sliced mushrooms
. Preacher Man was proposing to me all over again when I made this for him! (And I love steaks on the grill so much that I never intended to cook them any other way. An unbeatable sale + frigid temperatures made me try this recipe and it is indeed a winner! Perfect for those of us in the northern climes on V-day.) BTW - I used red onion instead of a shallot.
Lastly, this recipe for
Greens with Mushrooms
has been a favorite of ours for a long time.
Serves 2-3
- 1 clove garlic, minced
- 2 tbs. oil
- generous 1/2 c. shiitake mushrooms, stemmed & sliced
(I have never used shiitake, I just use the cheap, white button mushrooms.)
- 1 lb. baby bok choy (a kind of cabbage - may substitute regular bok choy)
- 3 tbs soy sauce
- 1 tsp. sesame oil (yes, invest in the little bottle - it adds warmth & depth of flavor like you wouldn't believe! I also use sesame oil in my
Egg Foo Young
)
Separate the stalks from the leaves of the baby bok choy. Roughly chop both, keeping them separated. In a saucepan, fry the garlic in the oil until it is warm. Add the sliced mushrooms & bok choy stalks, stirring together for about a minute or so. Cover the pan & cook for about 5 min. Remove lid & add bok choy leaves, soy sauce, & sesame oil. Let it cook for another 2-3 minutes, or until the leaves have wilted. This is especially delicious with salmon.
(Slightly tweaked version of Nigella Lawson's recipe found in
Nigella Bites
.)
Any of these would be wonderful for a special Valentine's dinner with your sweetie. Of course, you don't have to get
too
fancy to make it memorable. One year, I made heart-shaped pizzas and Preacher Man loved it! I do best saying "I love you" with food. :)
Pin It