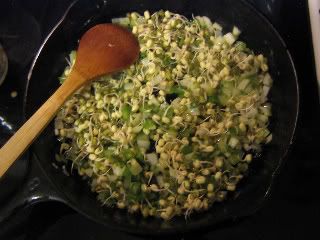 Sprouts are a terrific superfood! They are packed with nutrition and add a nice crunch to sandwiches, salads, and stir fries. I like to keep mung bean sprouts around for eating in the winter when we get fewer fresh vegetables to eat. I bought mine in bulk from Whole Foods - you don't need many - just a couple of tablespoons will make over a cup of sprouts. Sprouting your own sprouts will save you a LOT of money over buying them from the store, and they will taste better than the soggy old ones in the produce department. Plus, it's fun and easy to do - kids will especially enjoy watching the beans transform in just a matter of days. They might even be fascinated enough by the process to eat them! ;)
Nice tasting seeds for sprouting:
alfalfa
radish
mung bean
broccoli
I'm sure you can find instructions for sprouting all over the internet, but I'll share my sprouting technique here. You can buy a fancy sprouting contraption, but it's really unnecessary. I just use a washed out spaghetti sauce jar, a square cut off of an old pair of pantyhose, and a rubber band. I add about 2 tbs. of seeds for sprouting to the jar. Cover the jar with the hose to make a sort of sieve, securing it with a rubber band. Run fresh cold water into the jar, and rinse the beans well. Strain out the water. You will need to rinse the seeds in fresh cold water several times a day. I leave the jar by the sink and tend to do it every time I find myself working in the kitchen, which is a LOT! Basically, you just don't want them to dry out. After they are sprouty enough for you, it's best to eat them right away, but they will keep in the fridge for about a week.
You can see how my sprouts transformed here:
Day 2 -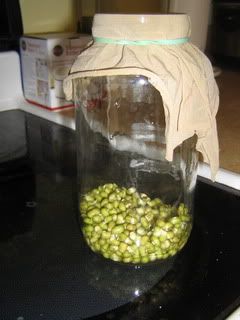 Day 3 -

Day 4 -

Day 5 - Ready to eat!
My favorite thing to make with sprouts is Egg Foo Young. I got this recipe out of a vegetarian cookbook years ago, but I have tweaked the recipe many times. I wanted to be able to make it out of ingredients I had on hand, so that is the version I will share with you. This recipe is a delicious and simple meal for lunch or dinner. It is also a terrific use for leftover rice!