For the holidays, we like to take baked gifts to our neighbors. Does anyone else notice how rare home baked treats are anymore? These recipes both freeze well, and we tell our neighbors that in case they are overwhelmed with treats at the time. These are the things we have made that are most appreciated:
Cherry Eggnog Bread
BREAD:
-3/4 c. maraschino cherries, drained and chopped
-2 1/4 c. flour
-1 1/2 tsp. baking powder
-3/4 tsp. nutmeg
-3/4 tsp. salt
-1 c. sugar
-3/4 c. butter, softened
-3 eggs
-1 c. eggnog
GLAZE:
-1/2 c. powdered sugar
-3-4 tsp. eggnog
-1/4 c. toasted, sliced almonds**
Chop cherries and dry as best you can on paper towels. In a small bowl, combine the dry ingredients. In a large bowl, combine the sugar and butter, beating until light and fluffy. Add the eggs, one at a time. Add 1/3 of the dry ingred. and mix, then add 1/2 the eggnog and mix. Add another 1/3 dry, then the rest of the eggnog, finally adding the remaining dry ingredients. Gently fold in the chopped cherries and pour the batter into a greased pan. ***Bake at 325* for 1 hour and 15 min. or so until a knife inserted in the center comes out clean. Cool in the pan for about 5 minutes, loosen the sides, and turn out onto a wire rack to finish cooling.
GLAZE: Mix the powdered sugar and eggnog until smooth. Drizzle about half onto the completely cooled loaf. Sprinkle evenly with the toasted almonds. Drizzle the remaining glaze over the almonds.
TIPS:
*This is a wonderful gift bread! It is beautiful and festive and tastes delicious! To make in advance, freeze the loaf before adding the glaze for up to a month.
**To toast the almonds, put them in a skillet and toast the dry over medium heat, stirring frequently until they turn golden brown. Watch them carefully, once the start to brown, they turn pretty quickly, so be careful not to burn them! Turn them onto a plate and cool them completely before using. (To hurry this up, you can stick them in the freezer for a few minutes.)
***Cooking times and temperatures are given for baking in a stoneware loaf pan. For metal and glass loaf pans, you may need to turn up the heat to 350* and cook for less time. Watch it carefully. For a bake sale or for gifts I like to use mini loaf pans - you'll have to just watch carefully and guess on the baking time though because I can't remember how long I ended up baking them.

Chocolate Hazelnut Biscotti
Really works best if you use a heavy duty stand mixer. This is a very stiff dough! The recipe is from Martha Stewart's Baking Handbook. We also enjoy the almond biscotti recipe.
Makes 4 dozen
2 1/4 c. flour, plus more for dusting (I use part whole wheat)
1/4 c. cocoa powder
1 tsp. baking soda
1 tsp. salt
12 oz. (about 2 c.) semi-sweet chocolate chunks chopped to pea size (mini chocolate chips work great!)
1 1/2 c. (8 oz.) hazelnuts, chopped to pea size
4 eggs
1 egg white, lightly beaten
1 1/2 c. sugar
Preheat oven to 350*. Line a large baking sheet with parchment paper, lightly grease, and set aside. Whisk together the dry ingredients. Add 1 c. of the chocolate chunks, and all of the hazelnuts. In an electric mixer, using the whisk attachment, beat the four eggs until the mixture holds a ribbon-like trail on the surface for a few seconds when you raise the whisk. Switch to the paddle attachment. With the mixer on low speed, add the flour mixture, then the remaining chips, and beat until just combined.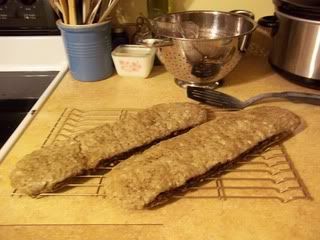 Turn out the dough onto a floured work surface. Work in extra flour until the dough is tacky, but holds together. Divide into three equal pieces, and shape into an 18" long log. Transfer the logs to your prepared baking sheet, and press the top down lightly to flatten slightly. Brush some egg white over the logs and sprinkle with sugar. Bake until logs are just firm to the touch, 20-24 minutes. Transfer to a wire rack to cool slightly, about 20 min.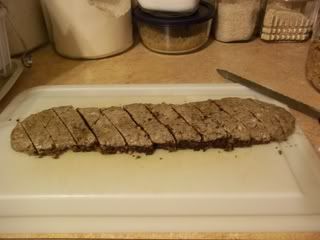 Place logs on a cutting board. Using a serrated knife, cut thick slices on the diagonal. Place a wire rack on a rimmed baking sheet. Arrange the slices on the rack. Bake until biscotti are firm to the touch and completely dry, 10-12 min. Remove pan from oven; let biscotti cool completely on the rack. Biscotti can be kept in an airtight container at room temp. for up to a week (if they last that long!) and they also freeze well.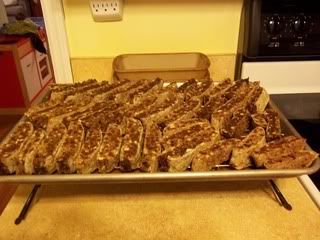 This post is a part of the Four Moms Cookie Exchange - check this link for more recipes!
Also linking up with the
2012 Four Moms Food for Gift-Giving link-up
. Didn't try them the first time around? Pin this post so you don't forget about it!