How to upcycle baby mittens that
don't fall off
!!!
If my babies are like your babies, they really don't like to keep mittens on their hands! We got some that were attached by a piece of yarn that you could string through their coat sleeves, and that kept us from LOSING the mittens, but it didn't keep the baby from pulling them off the very instant we got them on his hands and running around with dangling mittens! So I brainstormed and came up with this idea, and we've been testing it for a few weeks now. I'm happy to say that it works brilliantly! We put the extra long mittens over a shirt, and the coat goes over the top of that. This layering system keeps the little mitties in place and even our precocious little one hasn't figured out how to get them off yet!!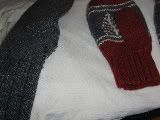 Chose your baby mittens and find a coordinating pair of old adult size socks that you don't mind cutting up. This pair had several holes in the heal and toe.
Cut the sock straight across at the ankle.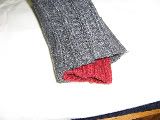 With your sock WRONG side out, and your mitten RIGHT side out, slip the mitten inside the sock and make the edges nice and even.
Sew the sock and mitten together on your sewing machine - first go around with a straight stitch, then use a zig-zag stitch over the edges.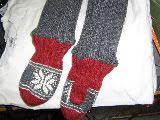 Turn right side out, and you are done! Now do the other one! Nice and simple, and your baby will have nice toasty fingers when playing in the snow!
(If you're like me, and you are really, really frugal, you can save the holey sock for dusting!)