What to do with the leftovers... that is the question.
We honestly don't have much in the way of leftovers this year. Some turkey and some stuffing. That's about it! Here are two recipes that you can use to remake some of your leftovers if they are still lurking around in your fridge.
First - the carb-overload recipe: (This was our lunch today.)
Turkey Gravy
Inspired by one of my favorite school cafeteria meals! ;)
How to make it - It's very simple really... just chop up lots of turkey into little bits and mix it in the gravy. Remember, you can never have too much gravy! To serve, put a scoop of mashed potatoes on one side of a bowl, a scoop of stuffing on the other, and ladle the gravy on top. It's like a KFC bowl, only lots better! I freeze this for a quick meal later - one ziploc with the gravy/turkey and one with the stuffing, rubber band the two together so they don't get separated in the freezer. I usually fix fresh mashed potatoes, and some sort of green vegetable with it. At school, they also made hamburger gravy, which was hamburger meat in a beef gravy served over mashed potatoes. I didn't like that one at all, but I think roast beef would be absolutely delicious!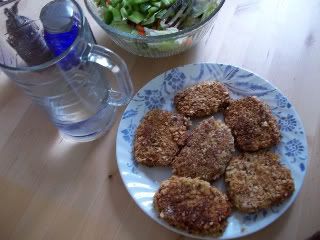 Second - a meal to help you feel virtuous again: (This was our dinner.)
Salmon Patties
I served them with roasted broccoli and roasted sweet potato fries. Both of the littles devoured these, so I'm thinking this one will be appearing on our table much more often in the future! This is also a very frugal meal - less than $5 to feed a family of 5. We stretched the salmon patty recipe into two meals, as we got 14 patties out of the recipe.
1 1/2 c. cold mashed potatoes
14 oz. can salmon
pinch of cayenne
2 Tbs. lemon juice
Mix these ingredients and form into tightly packed patties on a plate. Refrigerate for at least 20 minutes.
1 c. crushed saltines
1 egg beaten with a little milk or water
butter for frying
Melt a stick of butter on medium heat. Dip each patty in the beaten egg and then in the cracker meal. Fry in the butter for about 6 minutes on each side. (Try not to mess with them too often or flip them too many times. They will keep their shape better if you leave them alone.)
We like these served with ketchup!