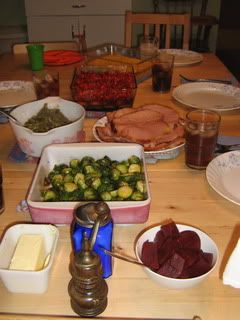 I wrote this in the afternoon: In just a few hours, we'll be enjoying a delicious dinner around the table with loved ones. What a BLESSING!
I typed out this one single sentence and then I got MAJOR interruptions by both littles waking up, and it was craziness all afternoon, cooking up a storm and tending to needs until the family arrived and it was time to sit down at the table! It may be too late for my menu/countdown to be of much use to any of you, but I am going to record what I did anyway as I know it will be a major benefit to me next year when I'm trying to remember what I did and how I did it! And this way, you can enjoy a picture of the feast!
We actually enjoyed two feasts this year with different sides of the family on different days. I failed to make a time line for Feast A, and dinner way MAJORLY delayed and things did not come out hot at the same time. I decided that winging it just wasn't going to fly with my distracted brain and for Feast B, I'd better do a bit more planning! Live and learn, right?
Feast A Menu:
- Cranberry Chicken with Brown Rice (I really need to post this recipe - it's a family favorite!)
- Roasted Brussel Sprouts, Broccoli, and Asparagus
-
Sweet Potato Casserole
- Ms. Clara's Butter Rolls
- Mini Cheesecakes
Feast B Menu/Game Plan:
- Ham glazed with honey and orange juice
- Ms. Clara's Butter Rolls
- Sweet Potatoes and Cranberries
- Corn Pudding
- Roasted Brussel Sprouts
- Southern Style Green Beans
- Dairy Free Pumpkin Pie
- Yummy, but I think I put in a bit too much cinnamon. I used a pat in the pan recipe which was so nice and easy. I'll have to share that recipe here later too.
The night before: Make pumpkin pie, boil sweet potatoes, thaw green beans
4 1/2 hours before: Put the ham in the oven - cover with foil, bake at 325*, plan to cook for 20 minutes per pound. Make the rolls, set them out to rise.
In the meantime: Prepare the brussel sprouts, the sweet potato cranberry dish, and the corn pudding.
2 hours before: Start cooking the green beans on the stove - saute one small diced onion in a Tbs. of bacon grease. After the onions are brown, add the green beans and some water.
1 1/2 hours before: Mix up some honey, orange juice, dash of cloves and some cinnamon. Baste the ham and remove the foil. Continue to cook the ham for another 30 minutes.
1 hour before: Remove the ham from the oven. Baste with the pan juices a few times while it is sitting out on the counter. Raise the oven temperature to 400*. Put the corn pudding in the oven (it will cook faster at this higher temp - watch it!), the rolls, and the brussel sprouts.
1/2 hour before: Lower oven temperature to 350*. Take out the rolls and put in the sweet potato cranberry dish to warm up. Enlist a volunteer to slice the ham.
Set the table, and pour the drinks! Enjoy!