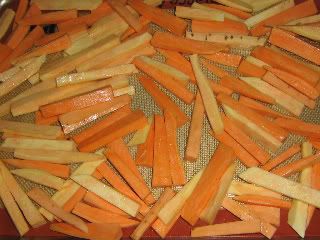 'Tis the season for sweet potatoes and yams! Right before Thanksgiving, I found sweet potatoes at the grocery store for as low as $.20 per pound! Throughout the year, they run about $1 per pound regular price. I snatched up 15 pounds! You will see similar amazing deals on sweet potatoes around Christmas and Easter, though $.40 per pound is more typical. Get them while you can!
So what to do with all of those sweet potatoes? Here are my three favorite recipes:
Roasted Sweet Potatoes
(shown in the picture above)
This is my favorite method because the roasting brings out the vegetable's natural sweetness, eliminating the need for any extra sugars.
Preheat your oven to 450*. Using a vegetable peeler, scrape off the skins and rinse them. Cut into french fry shapes. (We like ours the size of Wendy's fries... McDonald's fries are a little too small. ;) Toss in some extra virgin olive oil, spread on a cookie sheet, sprinkle on some salt and any seasoning you like (cajun is surprisingly good!) and roast until they are nicely browned and soft all the way through. The amount of time this takes depends upon how small you cut your potatoes, but you can expect about 40 minutes to an hour. I always use a silpat on my cookie sheet, so if you don't have one, you might consider using parchment paper to prevent sticking.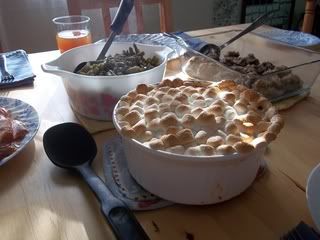 Sweet Potato Casserole
4 medium sweet potatoes
1/4 c. butter
1/3 c. brown sugar
1/2 c. finely chopped pecans or walnuts
mini marshmallows
Scrub the sweet potatoes and place them in an oven safe covered dish, adding a little water to the bottom of the pan. Bake at 350* for one hour, or until the potatoes are very soft. Allow the potatoes to cool. Leaving the water in the dish, remove the skins from the potatoes and mash. Add the other ingredients and mash together thoroughly. Spread evenly in the baking dish and sprinkle a layer of marshmallows on top. Return to the oven and bake until golden on top.
Sweet Potatoes and Cranberries
This is an elegant dish that is nice for your holiday table. It can be made up ahead of time and heated just before serving. It is a real favorite around here!
5-7 sweet potatoes
3 Tbs. butter
1 c. maple syrup
1 bag of cranberries
Scrub your sweet potatoes and boil them in their jackets until they are fully cooked, but still a bit firm. Peel off the skins and slice them into rounds around 1 cm thick. (Think the width of your pointer finger.) Spread the rounds in a buttered 13x9 pan. While the potatoes are cooking, boil the butter, maple syrup and cranberries on the stove until the cranberries start to pop. Pour the cranberry mixture over the sweet potatoes. Warm in the oven if needed.
I also made a similar concoction by mixing up mashed sweet potato with some leftover
cranberry sauce
. It was yummy too!