Best Sugar Cookies EVER!
These are so thinly crisp and delicious! My favorite cookie recipe for rolling out and using cookie cutters. The orange zest is the secret ingredient that makes them so perfect!

Ingredients:
- 2 sticks butter at room temp.
- 1 c. sugar
- 1 lg. egg (room temp.)
- 1 tbs. vanilla
- 1 tsp. salt
- 2 1/2 c. flour
- 2 tbs. finely grated orange zest

Directions: Cream butter & sugar until light & fluffy. Add eggs, vanilla & salt and mix well. Add flower in two batches mixing well. Add orange zest and knead it in with your hands. Divide dough in half, wrap in plastic wrap and refrigerate for about 2 hours (and up to a week).

Preheat oven to 350*. Roll out the dough to about 1/8" thick. (If you need to use a bit of flour to keep the dough from sticking, it is o.k.) Cut out shapes and place on a cookie sheet that is lined with parchment paper. Gather together the scraps and reroll & cut, until you've used all of the dough. Decorate the cookies with sprinkles if you wish. Bake cookies for about 12 minutes until golden around the edges and firm to the touch. Let them cool completely and store in sealed containers for up to 5 days.

Number Of Servings: about 4 dozen cookies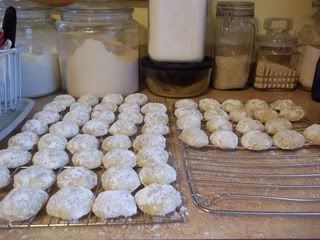 Variation: Hawaiian Snowballs
These will melt in your mouth! One of Preacher Man's friends said he would eat these for every meal of the day if he could – that's how good they are! Hint: use a nut grinder to chop both the macadamia nuts and the pineapple.
Ingredients:
- 2 c. salted, roasted macadamia nuts, finely chopped
- 1 1/3 c. finely chopped dried pineapple
- ½ c. confectioner's sugar for dusting
- sugar cookie dough from the recipe above
Directions: Preheat the oven to 350*. On a clean work surface, toss nuts with dried fruit. Sprinkle over the dough and knead until just blended. Form into 1" balls, place on cookie sheet. Bake until barely golden – about 15 minutes. Transfer to a cooling rack. When slightly cool, roll the cookies in confectioner's sugar in a small ziploc bag and return to cooling rack until they are completely cool.
Number of Servings: about 4 dozen cookies
This post is a part of the Four Moms Cookie Exchange - check this link for more recipes!