As a family, we are studying a character trait each week, and are beginning with the Fruits of the Spirit. We are just getting started, so up until now, we have talked about Love, Joyfulness,
Peaceable, Patience, Kindness, and Goodness. If you want more information on the nuts and bolts of what we are doing, you can read how to get started on this post.
This week's character quality is Faithfulness. Not so much having faith, but being faithful, which is more akin to loyalty. We'll do faith later on. :) Read with me this beautiful verse about our amazing God:
"Therefore know that the Lord your God, He is God, the FAITHFUL God who keeps covenant and mercy for a thousand generations with those who love Him and keep His commandments."
- Deuteronomy 7:9
In studying these character traits, the ultimate goal is to become more like God.
Ephesians 5:1 - "Be imitators of God, as beloved children."
The Bible tells us that God is faithful and we can read about how God demonstrates His faithfulness throughout the Bible. He is faithful to us, and in turn, asks that we be faithful to Him.
Acting with constant devotion and unwavering commitment to God and to those whom He has called me to serve.
Revelation 2:10 - "Be faithful until death, and I will give you the crown of life."
This week's Bible Story:
There is a reason why Abraham is so often called, "Father of the Faithful". He was a man of remarkable faith and Hebrews 11 highlights many of the ways Abraham showed himself to be faithful, or unwavering in his commitment to God. I recommend reading verses 8-12 and doing a quick review of when God called Abraham to go to a new land that he had never seen, when he waited for God to fulfill the promises made to him, including the promise of Isaac, the son born of Sarah.
The main story I used to illustrate Abraham's faith is when God told him to offer up his son, Isaac, as a sacrifice. Before coming back to read that part in Hebrews, we read the story in Genesis 22:1-18.
On a personal note, this is one of the most difficult things God asked of any man in the Bible. If I am honest about it, I cannot fathom being asked to do this, or comprehend God asking my husband to do this to my son. When my children ask me, "Why?" I have a difficult time answering. I do not understand God's ways. But this is what God did to test Abraham's faithfulness to him. And because Abraham was unwavering in his commitment to obey the command of the Lord, God was faithful to him in return, and spared him from killing his son. God provided on that mountain, just as Abraham had said He would.
Hebrews 11:17-19 gives us some eye opening divine commentary on this story. Verse 20 tells us that Abraham concluded that "God was able to raise him up, even from the dead." As far as we know, no man or child had yet been raised from the dead by God, so there was not any previous situation that Abraham could use to help him make that conclusion. But his faith was so great, he knew that if God promised his heritage would come through Isaac, and that if God, the creator of ALL, had been able to bring Isaac into being through a man and woman as good as dead (meaning deadness of the womb), then God could bring his son back to life.
Indeed, here Abraham demonstrates that "faith is the substance of things hoped for, the evidence of things not seen." (vs. 1)
Discussion:
While discussing the definition of being faithful, I used a couple of visual aids. The first is by holding my two hands, palms together, moving them slowly and steadily forward as I read, "constant devotion and unwavering commitment". I would look steadily at each child in turn as I said this. Then I demonstrated the opposite idea by moving my hands together with more of a swimming motion, showing them what it looked like to waver. I explained that worst of all, was to turn our back on God and move away from him, again demonstrating with my hands.
My second visual aid was the drawing of the two hearts shown on our prayer board in the picture below. We are doing some heart work lately as we are seeing a lot more whining and delayed obedience. We talked about how the top heart is a pure heart devoted to the Lord, and while the bottom heart is mostly the Lord's, this heart has kept a little part of black. It's just a little corner for selfishness, anger and ugliness, but that black part has been given to Satan. That bottom heart is not a heart for the Lord. Progress is slow, but I think it is working because the other night, one of them prayed, "God, help me to get rid of the bad parts of my heart..." My eyes welled up thinking of his tender heart.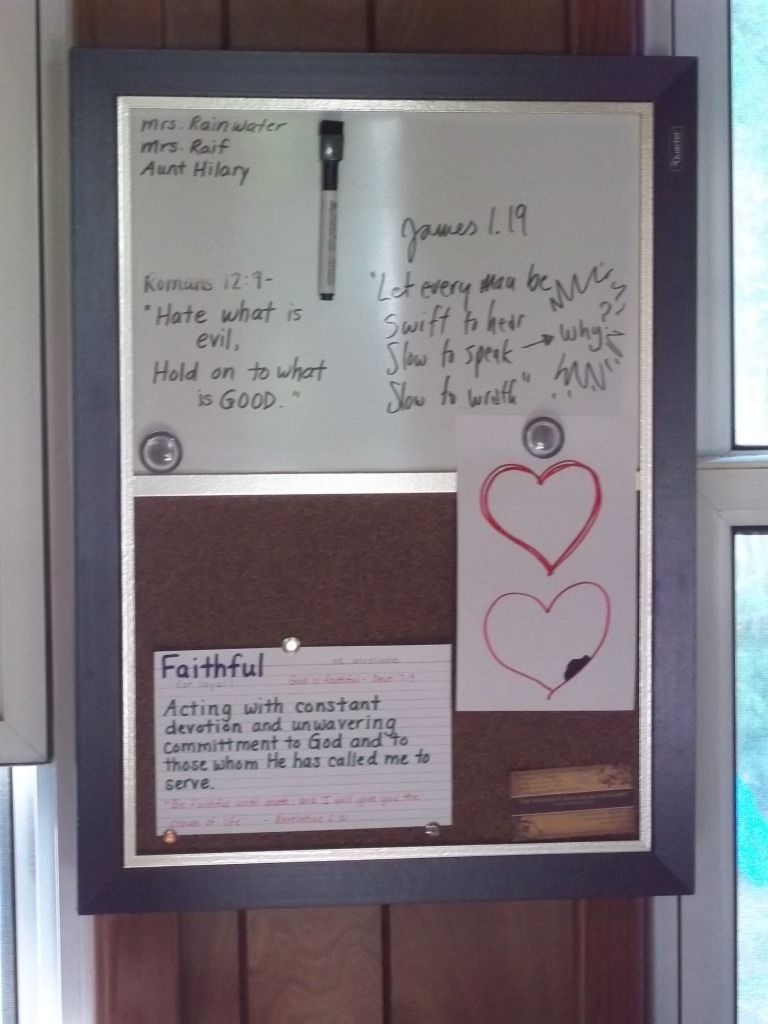 We used the heart illustration again when discussing the story of Abraham offering up Isaac. We talked about how God tested Abraham to see if he was keeping a little black part for Satan, or if his whole heart was faithful to God. Have the children identify which kind of heart Abraham had.
This "testing" is a challenging concept. We talked about how God asks us to "Do hard things" and that those things will test our hearts. God wants us to be faithful all the time - when things are easy and happy, and when things are hard and discouraging. Remember God's promise - "Be faithful until death, and I will give you the crown of life."
Lastly, we really enjoy this song by David Pratte - God's Man, Faithful Abraham. We've been singing it a lot this week. Older children may enjoy singing Faith of our Fathers.
Pin It