Why am I writing about making homemade vanilla in July? Because if you want some amazing homemade vanilla ready for your holiday baking, you really need to start it now!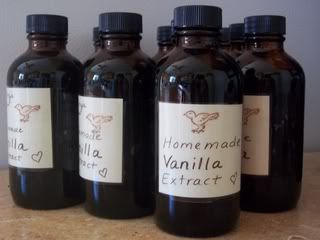 This has been one of our easiest and most successful ventures for gift-giving. I highly recommend giving it a try. I was amazed by the reactions, "YOU MADE THIS!?!?" No one ever guessed how easy it was!
You just need two things:
* Vanilla beans
* Vodka (or bourbon, but I really prefer the vodka and it is cheaper)
On the beans:
I made the vanilla in bulk because we were planning on giving it as a gift. You can pay an outrageous price for vanilla beans at the grocery store, or you can order cheap,
extract grade beans on e-bay
. I recommend the latter. I had a wonderful experience with this seller, and the beans were just perfect for this use. (Extract grade beans are just not "perfect looking" or are too short for regular sale. The vanilla flavor is just as potent!) I bought a 1/2 pound of beans that cost me less than $20 with shipping.
On the vodka:
This was the most difficult part of the entire project for me... bringing myself to go into a liquor store! Once I finally mustered the courage and lectured my children within an inch of their lives that they were not allowed to touch ANYTHING, I went in, found the nearest store employee and said, "I'm making vanilla extract and I need to buy a gallon of vodka." The look she gave me was hilarious. She said, "Weeeeell, it doesn't come in gallons, but I can show you what we have." :) So she pointed out the bottles you can see just below: Cheap vodka in glass bottles so I can keep using the bottles for extract. I bought two 1.75 liter bottles and they cost me $20 each.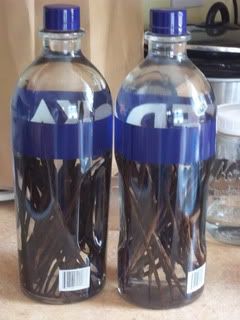 Then came the easy part! I poured out just a little bit of vodka... just enough to make some penne vodka, which ended up tasting pretty nasty. Then I divided up the beans between the bottles. Set it on a shelf in a cool dark room and let it sit for a few months. (3 is the minimum for some good strong stuff.) THAT IS IT!
Some instructions will tell you to cut up the beans, but you really don't need to do that. Ina Garten (the "Barefoot Contessa"), makes her own vanilla, and doesn't scrape her beans. She leaves them whole to marinate, and once the vanilla is ready, she can scrape out the beans as desired to use for baking so they serve double duty. I haven't done this yet myself. She also just refills her bottle with vodka as she uses it. I keep a small bottle of my extract in my baking cabinet, and the large one in cool, dark storage. When I need to refill my vodka, I can just buy some cheap vodka in a plastic jug to refill it and that only costs me about $14. Maybe my beans will need replacing some time down the road, but they are still going strong for now.
For gift giving, we ordered a case of these glass bottles from Amazon. With shipping, it came out to about another $20 for a dozen.
Now for some math:
$20 for the beans + $40 for the vodka + $40 for the glass bottles = $100 for 24 bottles of vanilla.
This equals $4.16 for each 4 oz. bottle of vanilla extract. If you made a second round, the cost would go down as you would save the $20 for the beans and about $12 on the vodka, so each bottle would only cost you about $2.66 for a 4 oz. bottle.
So we're talking about a pretty big upfront investment here, and I get that. You can definitely do this project on a smaller scale, but it is surprisingly easy to find this many people that can use a nice gift of vanilla extract. Think holiday gifts for friends, co-workers, family and neighbors, wedding gifts, housewarming gifts, thank-yous to the friends that let us stay in their home... We only bought a dozen jars the first time and they went quickly.
And now for a funny, courtesy of Preacher Man...
In our old house, we kept the vanilla on my canning shelves in the basement. The basement is also where our washer/dryer were located. Preacher Man used to tease me endlessly about needing to go to the basement so often. He would wink at me and say, "doing laundry, eh? Are you sure you aren't taste testing the vanilla again?" :P
Pin It