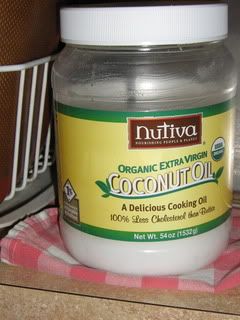 Coconut Oil is one of my favorite things! *cue Julie Andrews*
I particularly like this brand, Nutiva, because it has some wonderful coco-nutty flavor to it and I happen to love its delicious smell and taste. Coconut oil has many uses in the kitchen:
tastes amazing in homemade popcorn!
use it to saute vegetables
make some KILLER brownies (and really any other baked goody)
use it to grease your pans when baking
add a spoonful to smoothies
This incredibly versatile oil is also wonderful for your hair and skin! I have used it to moisturize my face from time to time, but my favorite new use is in the bathtub for my little ones. I noticed a few weeks ago that Big Littles was getting a couple of dry patches that looked suspiciously like eczema. Little Littles had a few dry spots also, but not as bad. We dragged out the humidifiers, but didn't see much improvement. Then, I started adding about 1/4 c. to their bathwater, and then rubbing their skin down with even more when they got out of the tub. They both have baby soft skin once again.
The only downside is that the tub needs cleaning out more often, but I'm ok with that.
So, where to get coconut oil:
Your local grocery store may carry coconut oil near the olive oil and other various kinds, but it is likely to be very expensive. A health food store would also have it. One of the best places to order coconut oil is on
Amazon
. You can get free shipping if you buy enough of it and they offer really good discounts and from time to time run even better sales, particularly on the Nutiva brand. I love to use my
Swagbucks
to buy normally high priced grocery items for free - things like coconut oil, quarts of maple syrup, mother's milk tea, etc...
You can also find great prices on coconut oil on
iHerb.com
. Use my referral code BUN441 to get $5 off your first order. iHerb is also a great place to buy essential oils, probiotics, supplements, etc...
Coconut oil is a healthy fat and helps nourish your body. If you are interested in the health benefits of using coconut oil, see
here.
I'm not being paid to promote coconut oil by anyone, I just wanted to share how useful it is and how we use it in our household to keep our skin and bodies healthy.
Have you tried coconut oil before? How do you like to use it?