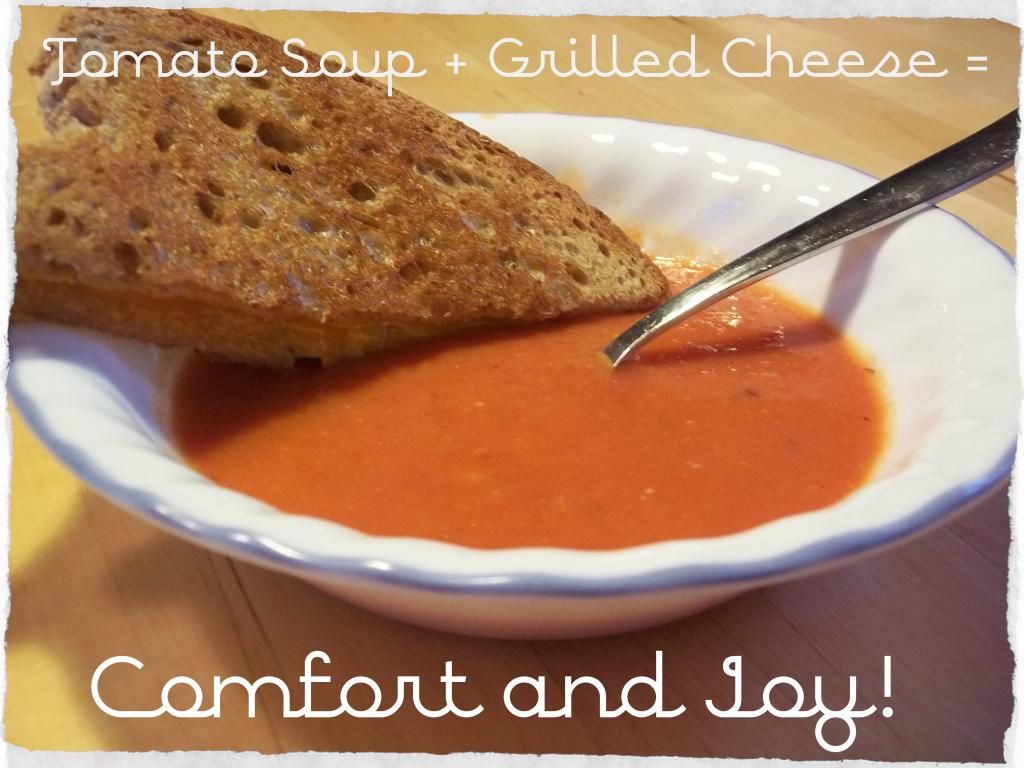 This is a meal that never fails to leave a sense of satisfaction. I had major tomato soup/grilled cheese cravings when I was pregnant with my second child. I grew up eating Campbell's in a can but I finally took the plunge and tried a homemade version and I LOVE it! It is so easy, I can't believe I didn't do this sooner!
Tomato Soup
2 Tbs. butter
1 small onion, diced
1 clove of garlic, minced (or 1 tsp. garlic powder if I'm in a hurry)
1/4 c. flour (or cornstarch or arrowroot powder)
28 oz. can whole canned tomatoes
1 c. chicken stock
1 tsp. dried oregano
salt and pepper to taste
Saute the onion in the butter over medium heat until it starts turning golden brown. Add the garlic. After about a minute, quickly stir in the flour and try to incorporate it all into the butter. Cook and stir it for about a minute and dump in your canned tomatoes and chicken stock. Season with the oregano, salt, and pepper. Use a stick blender to puree your soup and let it cook on the stove to meld the flavors for 15 minutes or so.
(I LOVE my stick blender for soups, but if you don't have one, you can transfer your tomatoes to a regular blender or food processor. It's just much messier that way.)
Grilled Cheese
I fee like I hardly need to share a recipe, but I guess not everyone knows how to make it... I know I didn't when we first got married! The first time I made it, I burned the outside and the cheese was still cold! Butter the
outside
of two slices of bread and lay the butter side of one of them down on a heated griddle or skillet. Quickly add your cheese - our favorite is good old cheddar or pepper jack. Top with the second piece of bread, butter side up. Once the bread turns golden brown, flip it over to toast the other side. Once it is done, let it sit on a cutting board for a minute before cutting your sandwich into triangles.
Also yummy when you add sliced lunch meat, or thinly sliced fresh tomato. Really, the possibilities are endless.
Do you have a favorite comfort food?
Pin It