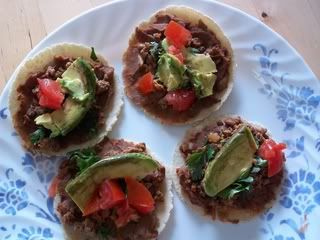 We've started a tradition of having "Tortilla Night" in our home (almost) every Friday night. We have a Bible study as a family and open up our home to friends and neighbors to join us for dinner and the Bible study, and people are welcome to arrive whenever they can. My husband sends out e-mail invitations/reminders every Tuesday and we don't ask for an RSVP. Ever since we started, we've always had at least one other family join us, and sometimes up to four, though many just come for the Bible study. I got the idea from a large family that did this back in our previous home congregation and we've been happy to carry on here in upstate New York. (This family orders pizza for everyone, but we have a dairy allergy in our family that makes pizza complicated, so just do whatever floats your boat.)
I thought it might be helpful to explain some of how we make this work and perhaps you will get some ideas that will be useful in your efforts to "practice hospitality".
Logistics -
Doing the same routine every week is very helpful for me. After a few weeks, my mind has gone to "autopilot" and Fridays fall into a predictable routine. I keep a check list on a post-it note on the fridge for all of the foods and utensils I need to set out (I'll go into that in the next section). Thursday is my "kitchen day" giving me a chance to do some extra food prep and Friday is my house cleaning day, which means I give the bathrooms a good cleaning and do some extra dusting/glass cleaning if I am able.
I am intentional about not making my house spotless...
we are simply opening up our home and welcoming others to join our family, we are not hosting an "event". I have the children clear away toys while I fix dinner, but I do not stress about the appearance of our home.
During the Study -
I keep a large basket of Bible books, notebooks, and pencils for the children to use while we have our study. My children are expected to sit quietly while we study and get involved as they are old enough to do so. My husband leads the study and usually does different Bible stories. Right now we are spending a few weeks talking about King Saul and his character.
The Food -
As food allergies, special diets, and plain old finickiness are on the rise, I find the food we serve for "Tortilla Night" to be the perfect solution. I keep all of the ingredients in separate bowls served buffet style - hot foods on the stove and cold foods on a side table. Everyone can chose what they like and ingredients are available for taco salads, bowls, soft tacos and burritos. I haven't found another meal that better suits the wide variety of needs for our guests and because the food is fresh and tasty, everyone enjoys it too! (It's also not an expensive meal, which is good since we are doing this regularly. I can buy many of the ingredients at Aldi which saves a lot of money!)
This is what I generally serve:
Homemade Refried Beans (recipe follows) - though I use canned in a pinch
Taco Meat (1 lb. ground beef with 2 Tbs. homemade taco seasoning)
Shredded Cheese
Rice (recipe follows)
Avocado or Guacamole
Diced Tomato
Lettuce
Chipotle flavored Salad Dressing - I buy this, but have a homemade recipe I want to try soon
Diced Green Pepper
Diced Red Onion
Salsa and Hot Sauce
Tortilla Chips
Flour and Corn Tortillas
Sour Cream
Do I have every ingredient every week? No, but this is the list I go from when making a grocery list and getting things ready. I often make the meat and/or rice in bulk and freeze it and this saves a lot of time. I buy salad in the clamshell containers so I'm not prepping lettuce (plus it lasts so long this way!)... in other words, I look for ways to save time so Friday prep is not so overwhelming. I also set out cups, a pitcher of water, cloth napkins, silverware and plates/bowls so people can feel free to help themselves. I don't worry about fixing dessert, so if someone wants to bring something, I tell them they can bring something sweet to share.
Some recipes:
My old standby recipe for
refried beans and Spanish rice
is here and we still use this method sometimes. The beans are not as smooth and the prep for both of these is more last-minute. I've since found a new refried bean recipe that we really love and a friend gave me a rice cooker. Try out the different recipes and decide what you like the best.
Refried Beans
- all in one pot!
3 c. dried pinto beans
1 medium onion, diced
3 garlic cloves, minced
1 tsp. chipotle powder (Penzey's)
1 tsp. chili powder (Penzey's)
1 1/2 tsp. salt
Sometime the day before you want to serve your beans, sort and soak the pinto beans in enough water to cover by a couple of inches. In the afternoon before our meal, I drain the beans and rinse them in a colander, then put them right back in the pot. Add the onion, garlic cloves, chipotle powder and chili powder. Cover with water by about an inch and bring to a boil. Once it is boiling, I put the lid on and lower the heat to about medium so the beans are gently bubbling. Cook them for at least an hour - long enough for them to get nice and soft.
Now comes the tricky part... you want enough liquid to keep the beans moist, but don't want them too runny. You might need to drain off some of the cooking liquid at this point and I recommend reserving it in case you want to add some back in. Use a stick blender to puree the beans and once they are all nice and smooth, mix in the salt, and check for flavor and texture. If they are too runny, you can just cook them on the stove for a while with the lid off and if they are too dry, you can add back some of your cooking liquid. Keep warm until ready to serve.

Cilantro Lime Rice in the Rice Cooker
2 Tbs. butter
2 tsp. garlic powder
1/2 tsp. salt
2 scoops of white or brown rice (the scoop that comes with the rice cooker)
1/4 c. lime juice
water that comes up to the "2" line of your rice cooker
1 Tbs. cilantro (I have also used the kind in the tube when I can't find nice fresh stuff and it works very well.)
Put all of the ingredients except the cilantro in your rice cooker and turn it on. When the cook cycle is finished, stir in the cilantro and let your rice cooker keep everything warm until ready to serve.
For a stove top version see the original recipe here.
Do you have any regular ways that you open up your home to show hospitality? What do you do to make things go smoothly? Got any favorite foods your guests have enjoyed?
Pin It