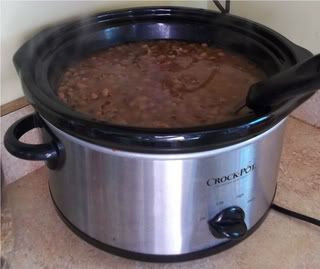 Beans are very, very cheap, especially if you use dried beans. They are also very good for you! They have lots of fiber and protein, beans paired with brown rice make a complete protein, and the more you eat them, the less of an "unpleasant effect" they have. Another key to reducing the gassy after effects is the long soaking/cooking time. I soak for 24 hours and cook for 24 hours and this helps a lot with digestion.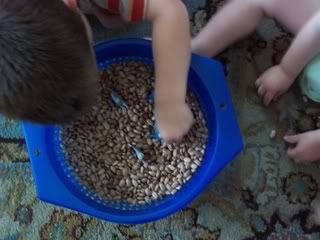 **Red or Black Beans, Pinto Beans & Black Eyes Peas
-- GENERAL DRIED BEAN TECHNIQUE --
- 1 lb. dried beans
- water
- ham hock or bone (opt.)
- pickled jalapeno slices (opt.)
- 1 1/2 tbs. salt
- hot sauce to taste
Sort the beans first to remove any foreign objects or rocks. Rinse and wash beans in a colander in cold water, sometimes they can be a bit dirty. Dump into a crock pot and fill with water so the beans are covered by several inches of water. (The beans will expand as they rehydrate.) Let it sit overnight or up to 24 hours. Drain the beans in a colander and rinse, place the beans back in the crock pot and fill up with fresh water, covered by 1.5" water. If you like a ham taste in your beans, add a ham hock. If you like a little spice, add as many jalapeno slices as you like. They will add a nice subtle flavor. Simmer for 24 hours on low heat. Add salt to taste. (Adding salt at the end keeps the beans from getting tough.) Serve with some hot sauce and/or cajun seasoning. Serve with rice and/or cornbread or use in a recipe.
Refried beans and spanish rice is lunch for church mouse and family several times a week. Before almost every single meal, Big Littles will ask, "Is it beans and cheese?" with a hopeful little voice. Obviously, this is a favorite around here! :)
**Refried Beans
Best with pinto beans, although some people prefer black beans. (If you intend to use your pintos for refried beans, leave out the ham hock.) Put about 1 tbs. oil in a fry pan or cast iron skillet and heat to medium. Saute 1 chopped onion and a few minced cloves of garlic. Add a few scoops of cooked beans - they can be cold from the fridge, but they will mash easier if they are already warm. Mash with a potato masher. When smooth, turn down the heat to low, put a lid on, and they will stay warm until you are ready to eat. If the beans begin to dry out at any point, add a little bean liquid. Great as a dip or for burritos/tostadas.
(This is Preacher Man's method - he says he's come up with this through experimentation, and is always open to suggestions for improvement.)
**Spanish Rice (to serve with refried beans)
Saute a small onion in 2 tbs. oil. When soft, add some minced garlic. Add 1 1/2 c. white rice and lightly brown it. Add 2 c. broth and 1 c. chunky salsa. Stir and simmer, covered for 20 minutes.
I also make this using brown rice, you just have to let it simmer for 40-45 minutes instead.
This post is a part of the "Life in a Shoe"
Bean/Lentil linkup
AND the
4 Moms Lunch Menu linkup.