While my rating is "Crunchier Than Grape Nuts" on the
"How Crunchy Are You?"
scale, this post is not about that...
It's actually about crunchy granola!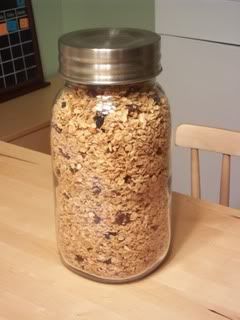 I wanted to try making homemade granola for years, but for some reason, it really intimidated me. The high price for what is really just glorified toasted oats finally gave me the nudge I needed to start experimenting and I am very happy with the results. We love eating granola in our house! We like it plain as a snack, on top of yogurt, with rice or almond milk, and I recently discovered that it makes a very nice topping on a muffin. If you have never made homemade granola before, don't be intimidated! If you can make chex mix, you can make granola!
To me, recipes are mere suggestions, and I almost never make something exactly the same way twice. Here are some of the recipes that I have used to come up with the perfect granola combo for us:
1)
The Family Homestead
- This is the recipe I started with, and is the main one that I use and tweak. I love that it makes 20 c. of granola at once and that I can stir it up in my big roasting pan. I leave out the powdered milk and substitute extra oats for the whole wheat flour. I just don't care for the floury, powdery stuff that ends up just being residue in my bowl. I think wheat germ would be a nice substitute.
2)
Flourish's Cranberry-Orange Good Morning Granola
- This stuff is like CANDY I tell you! I made it exactly as written the first time and it was just like eating a bowl of sugar cereal! Nice treat, but way too much for every day, and while I love the use of maple syrup, it is a very expensive ingredient to be using so much. I do love the craisins though and the orange peel was a stroke of pure genius! I now add orange peel to every single batch of granola I ever make!
3)
Hillbilly Housewife's Skillet Granola
- If you don't want to make an enormous batch, this is a nice easy way to do it! It comes out with less crunch, but it is still delicious.
So if I were to put my own recipe down on paper, or screen as is the case, this is what I would come up with:



Church Mouse's Granola
42 oz. canister uncooked old fashioned oats
1 cup shredded coconut
zest and juice of 2 oranges
1 T. cinnamon
1 ½ t. salt
1 cup coconut oil
1 cup liquid sweetener of your choice (honey, maple syrup, agave nectar, etc...)
1 T. vanilla
2 cup craisins (or other dried fruit)
2 cups nuts of your choice, chopped
(I like slivered almonds or pecans, walnuts are more economical though.)
Mix these ingredients in a large roasting pan, heat in a 300* oven for an hour, stirring every 15 minutes or so. If this recipe is too large for you, consider freezing some in ziploc bags.
And just for kicks, the amazing muffins I told you about from Ina Garten -
Banana Crunch Muffins.
I have gotten rave reviews from the families I have shared them with. I got 2 dozen out of the batch and they keep for about a week sealed in an airtight container. They also freeze well, but only have their crunch when they are fresh.
Hope this gives you some ideas and inspiration to come up with your own favorite combination for granola. Enjoy!