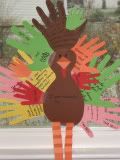 We had a delightful Thanksgiving Holiday! The food was, perhaps, the best ever, and the company even more so! Now we are left with a quiet house, exhaustion, and all we have left is some turkey and dressing from the feast. The dressing by the way, got rave reviews! The recipe is
here.
I had many comment to me that it was the best they ever had! The recipe allows for a lot of lattitude, but this time I used half bread, half corn bread, and for the meats, I added a bit of bacon & 12 oz. of sausage, cooked and crumbled. Yum!
Monday is "Preacher Saturday" for us - Preacher Man
generally
takes the morning/afternoon off to do house chores and spend extra time with the family. We think we might pull out our winter decorations then. I have at least one holiday kid craft I'd like to share. I also have a little tutorial I'm working on for some baby mittens that actually stay on! Stay tuned!
Lastly, Church Mouse is taking a BIG LEAP forward to give Facebook a try. I thought it would be a useful tool in promoting the site, especially once I finally figured out that the reason I have been getting so many hits on my
potato salad post
, is all because of the nice link up Mrs. Deputyheadmistress made for me in
The Common Room
. I plan to give updates on new posts there, so it is another easy way to keep up with the latest posts.
I'm fumbling my way through, so as I have said, suggestions for the site are most welcome! I'm very much learning my way around the bloggy world.
Here I am on Facebook!
Make Church Mouse a friend, or "like" me or something like that. ;)