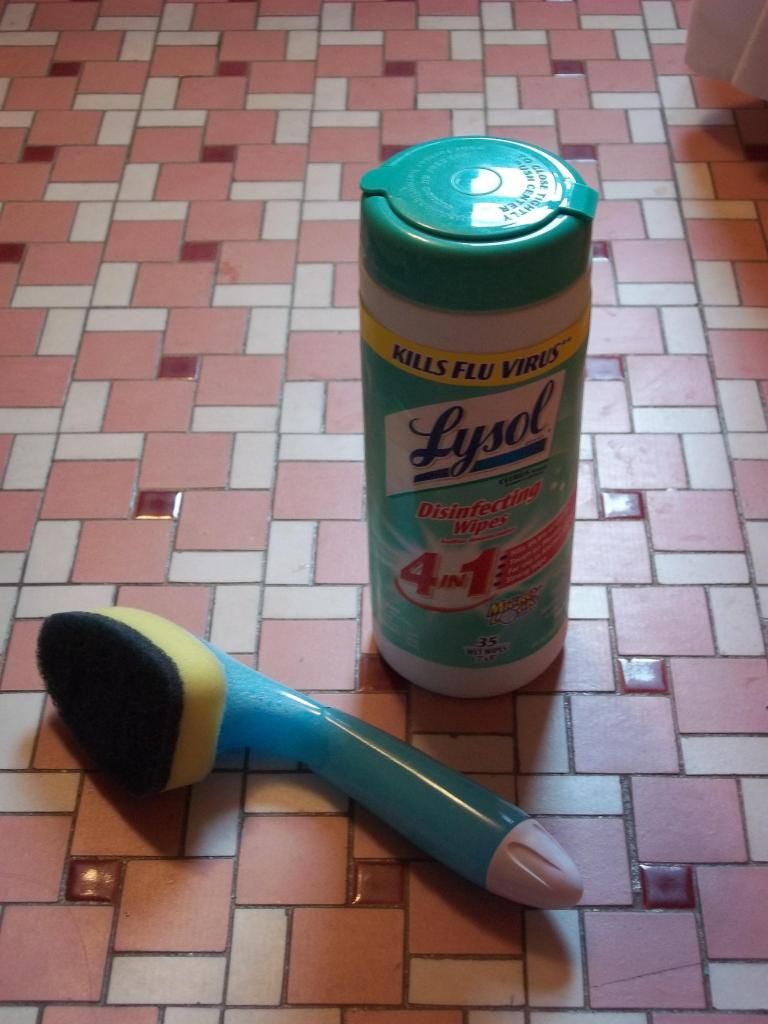 That is not Lysol in that can!
Almost two years ago, I posted
My Tips for Keeping a Clean Bathroom
where I encouraged my readers to try keeping a spray bottle of vinegar and a stack of rags in each bathroom for simple, quick clean-up. I still think this is a wonderful method, but I have found a few more simple cleaning techniques I'm excited to share that have really helped me keep up a clean bathroom.
First, I combined a few different ideas from Pinterest to create my own disinfecting wipes. I used an old Lysol container and put in pieces of my husband's old undershirts that I cut up. (I cut the body of the shirt into quarters for these wipes.) About 10 of these wipes fit in the container. I mixed up a cleaning solution in a jar that consisted of the following:
1/2 c. vinegar
1/2 tsp. Dawn dish soap
about 15 drops of essential oils (I like orange and tea tree oil.)
I poured this mixture over the wipes, shook them up, and I had wipes ready to go for cleaning the entire bathroom. They even worked nicely on the mirror! (If yours seem a little dry, you can always add a little bit of water. If they are too wet, you can squeeze out the excess liquid in the sink before using them.) These 10 wipes lasted me about a month, and then I just laundered them and made up a new solution. I have such a small bathroom and it has no cabinets, so this one little container hides in there very well.
The second idea is for cleaning the tub. I use
coconut oil in my boys' bath water
in the winter and this tends to make my tub get dirty in a hurry. It is so much work trying to scrub out the bathtub, that I tend to put it off way too long. I bought a little dish scrubber (shown above) and filled it with equal parts Dawn dish soap and vinegar. I keep it right in the shower on the hanging rack. About once a week while I'm taking a shower, I shake it up and do a quick once over on the tub and tiles. This takes less than a minute and has been keeping my tub nice and clean. I'm thrilled to give up the task of scrubbing out the bathtub every month!
Do you have any tips for keeping the bathrooms clean?
Pin It