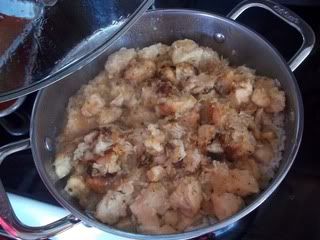 I like to make crockpot dishes for potlucks. They are so easy to transport, and if there is a plug available, I can turn it on the "warm" setting to keep it nice and hot. This is a variation on the Lemon Garlic Chicken recipe in the
Fix-It and Forget-It Cookbook
. This one is definitely a keeper! It is sooooo delicious! It is great for a Sunday lunch and reheats very well for lunches throughout the week.
**Note** As I wrote the recipe below, it makes 6 servings. When I make this, I actually double the gravy part of the recipe. My favorite part is the gravy and the rice, making the meat less of the focus. With the meat cut up in smaller pieces, and with the doubled gravy and rice, it serves more like 8-10 depending on how much meat you buy.
Lemon Garlic Chicken
Chicken Ingredients:
1/2 c. flour
1 teaspoon dried oregano
1/2 teaspoon salt
1/4 teaspoon ground black pepper
2 pounds skinless, boneless chicken breast halves - cut in pieces to serve a crowd
(for economy - may use thighs, leg quarters, etc...)
2 tbs. butter
Gravy Ingredients:
2 tablespoons butter
1 medium onion, chopped
4 cloves garlic, minced
1 c. water
2 teaspoons chicken bouillon granules (or use chicken broth)
1 lemon (use the zest and the juice)
leftover flour mixture
1 tsp. oregano
1/2 tsp. salt
1/4 tsp. black pepper
On a plate, mix the flour, oregano, salt, and pepper. Dredge the chicken in the mixture. Melt the butter in a skillet over medium heat. Brown chicken in butter for 3 to 5 minutes on each side and place the chicken in a slow cooker. Zest your lemon into the crockpot on top of the chicken.
When you're done cooking the chicken, in the same skillet, melt another 2 tbs. butter on medium-low heat, and saute the onion until soft and lightly brown. Add the garlic and saute it in the same way. Add the water and the chicken bouillon and whisk until it dissolves. Add the lemon juice, mixing well. Gently whisk in the leftover flour to make a nice gravy. (Add a little more flour if needed to thicken.) When it is smooth and bubbly, pour the gravy over the chicken in the slow cooker. Sprinkle the rest of the spices on top, cover, and cook on High for 3 hours, or Low for 6 hours.
Serve over rice. Basmati rice is absolutely delicious with this, but I also enjoy the heartiness of brown rice.
Hope you enjoy this as much as we do! :)

Linked to the Common Room's Potluck Saturday.
Pin It