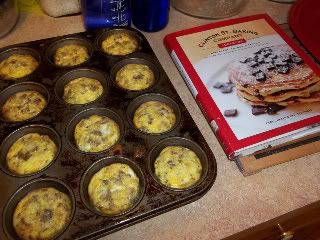 I love finding a solution for a problem! I recently worked out a great one that solves several breakfast time dilemmas.
We need protein + carbs for breakfast everyday. The importance of this fuel to 3/4 of us cannot be overstated.

Our protein of choice is eggs. I buy several cases a week. Right now we eat 7 eggs a day just for breakfast. We could probably eat more, and I think it will be a matter of a couple of months before we are up to 8 a day.

It is difficult to get a good estimate on how many eggs we need. Some weeks I do more baking than others, and we find ourselves running out of eggs more than any other grocery item.
Even during busy mornings, and perhaps even more-so on busy mornings, we need this fuel. See #1.
And one evening, we were expecting a house guest with unknown morning plans. I started thinking I should make some muffins so if he needed to make a quick getaway in the morning, he could grab a couple to go. Then I started thinking perhaps a savory muffin would be better and more sustaining than the usual cake-as-breakfast variety, even though I tend to "healthify" these recipes considerably. So I trolled around on
AllRecipes.com
and I found
this
!
These were not muffins... not really. These were more like egg patties. So I started thinking and remembering other
blog posts
about
freezing breakfast sandwiches
, and I started working out my own version. I stayed up until midnight, but loved the results, and now we have a freezer full of delicious breakfast sandwiches that solve a multitude of breakfast time problems for us. Now yes, I worked on these for a couple of hours in an evening, but I calculated that it made enough for 5 breakfasts for our family, which is really pretty good all things considered. This could be drastically simplified by buying english muffins ready made or canned biscuits, and I admit they would be much less crumbly. They also wouldn't quite have the taste of homemade biscuits and would cost more, so just do what works for your time and budget.
So here is what I did:
Sausage Egg Biscuits
- butter
- 2 onions, diced
- 3 cloves garlic, minced
- 12 oz. sausage
- 18 eggs
- 2 splashes of milk
- salt/pepper to taste
- 24 prepared biscuits (or English muffins)
Saute the onions in about a Tbs. of butter until soft. Add the garlic and cook a few minutes longer. Add the sausage to the pan and crumble it with your spatula while you cook it. Drain the sausage if need be. Crack the eggs into a large bowl and add the milk, salt, and pepper. Scramble with a whisk or a fork. Mix in the sausage. Grease two muffin tins very heavily with the butter. Put about 1/4 c. scoop of egg mixture in each section. Bake at 350* for 15-20 minutes, making sure the eggs are set in the middle. After they have cooled a bit, loosen the edges and remove from the pan. Split each biscuit in half, put an egg patty in the middle, and wrap in foil. (Feel free to add a slice of cheese if it suits you.) Transfer the foil wrapped sandwiches to gallon size freezer bags. Label and freeze.
(We used foil because we plan to put these in the toaster oven. If you plan to microwave them, you can use a paper towel to retain moisture or plastic wrap.)
For my more visual readers, here are some pictures I took during the process: