Meditations for Monday



Jeremiah 1:5

-


Before I formed you in the womb I knew you, and before you were born I consecrated you.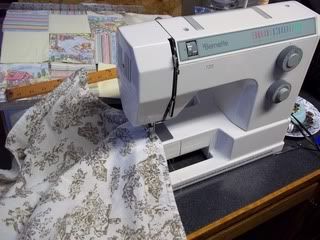 God is SO GOOD!
A couple of months ago, I was sitting at my sewing machine working on a baby blanket for a friend. My friend was on a journey to adopt a baby. I've made at least a dozen of these blankets now, one for each of my own babies and for gifts, and Big Littles has seen me make several lately.
Being the curious one that he is, he asked, "Which baby is it for?" I said, "Mrs. S's baby." He said, "What name is the baby?" I answered that I did not know. Being in the stage where he asks 100 questions every hour, he continued to pepper me... Finally, I came up with just the right answer as the above verse from Jeremiah came into my mind.
"Big Littles, we don't know the name of Mrs. S's baby, nor do we know which baby it will be or when she will have her baby. God knows though. God is making a very special baby just for Mrs. S, and one day, God will bring Mrs. S her baby so she can wrap the baby up in this blanket."
He was satisfied. God's word satisfies... even the child of 100 questions. God is amazing like that.



Psalm 127:3

-

Behold, children are a gift of the Lord... (NASB)
Babies are a blessing. Babies are ALWAYS a blessing. Each one is known by God even before He forms that little one in the womb. Each one is consecrated by God. Each one is fearfully and wonderfully made.
Saying prayers of thanksgiving today as Mrs. S holds her brand new baby.
God is SO GOOD!
Psalm 139:13-14

-


For You formed my inward parts;




You knitted me together in my mother's womb.




I praise You, for I am fearfully and wonderfully made. Wonderful are Your works;




my soul knows it very well.

(ESV)