Remember how I blogged about doing an online study of the book Open Heart, Open Home by Karen Mains? Well... I got overwhelmed with life. But you can read about
chapters 1 & 2
here if you wish.
Evidence of being overwhelmed: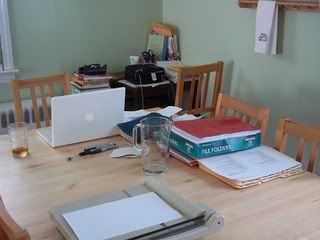 I entitled this picture, "My Desk Runneth Over". You think that doesn't look so bad? Well, it got worse. Much worse. Anyway, I've kept up with the reading, just not the blogging. In order to make up for lost time and share some of the gems from the book, I'm going to devote this week's blogs to the study. I would share the schedule with you here, but I fear my train will get derailed again, so we'll just plod along, shall we?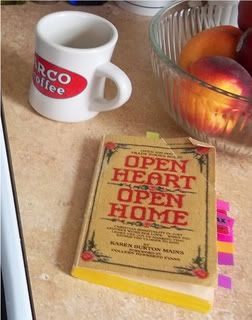 I've been using sticky flags to mark passages that have been particularly meaningful to me and as you can see there are plenty of them! As with any work by man (or woman), this book has required some sifting... some chapters more than others. But I am continually astonished by some of the convicting passages in this book. This book is about hospitality. But more than just telling us the hows and whys of hospitality, it is about the WHOs... or rather the WHOMs if we are being all proper with our grammar. (Right grammarians? Because I are not one!)
WHOMs =
the Holy Spirit - the Word working in us, transforming us, conforming us into the image of the ultimate whom...
Jesus - hospitable even when homeless, our example of ultimate love
Others - because it is all about others and our service to them
Me - my need for an Extreme HEART Makeover
God is tearing me down and re-building my heart into a palace fit for a King
... for our One Sovereign God. And once this is accomplished, Biblical hospitality will flow from my heart as naturally as a stream flows from a mountain. And I think that is what this book is really about. (Though I can't speak authoritatively because I have only read through chapter 8.)
So.... A few thoughts from Chapter 5 - "The Servant"
Early Friday morning my Master woke me with, "Who do you think you are, ordering your life? You're my servant. You've given yourself to Me. It is I who orders your days and brings order into them.
Maybe that is the problem. Perhaps I have not FULLY given myself to God. Perhaps I am still hanging on to my part with a death grip, wrestling for CONTROL in my life. I think this is an excellent bit to add to my daily prayers.
"Lord, order my days according to Your will and help me to use the time You have granted to me to bring You glory."



Often we aren't servants to one another because we haven't allowed the Spirit to sensitize ourselves to one another's cries of need. People say, "I need help," in many different ways. Sometimes these messages are barely audible, fragments of sentences, a look, a sigh. Hearing the meaning behind these whispers demands the highly developed antennae of spiritually mature people... The simple point is that even these articulate, loving, and sensitive women simply had not heard the cry of help in a way that demanded action.
This passage pierced my heart and made me think of all of the times that I may have missed someone's quiet whisper for help. Perhaps I have not been as tuned in to my sisters in Christ as I ought to be. I know that I have a tendency to be overly self-focused, and perhaps I am not noticing the bedraggled looks from a battle-weary sister. Perhaps I have listened to someone's plea, and thought that in listening, I was serving, but missed the fact that action was needed. This realization makes me feel rather hopeless to accomplish the task and I do not think I possess the "antennae" of the "spiritually mature". The only way I know to do better is to pray about it. After all, we are told in James 1:5, "If any of you lacks wisdom, let him ask God, who gives generously to all without reproach, and it will be given him."
"Lord, help me to be more in tune with the needs of the people around me and give me the wisdom to know when I am called to action."
Stay tuned for
Chapter 6 - "On Serving and Being Served", a particularly poignant chapter for Preacher's Wives.


Joining The Common Room's study of Open Heart, Open Home by Karen Mains.