I am joining The Common Room's study of Open Heart, Open Home by Karen Mains.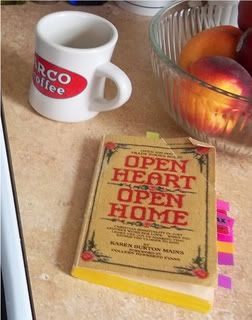 Today, I'm taking a look at Chapter 6 - "On Serving and Being Served", which I think is especially poignant for a preacher's wife. Notice "a preacher's wife" is lower case. Being the wife of a preacher is not a "position", though at times it is wrongfully treated as one. Wives of preachers have unique struggles, joys, and challenges, and this chapter hits at the heart of some of them.
One thing I believe I have in common with the author is that in our home, what we do as the preacher and family is very much a lifestyle.
(I wrote about that some time ago here.
) It is our choice and it is who and what we want to be. It can also get overwhelming at times.
The first sentence of the chapter says:
One of the unhealthy syndromes which often develops in the clergy is an unstated attitude of, "I'm here to help you, you're not here to help me." It is rarely that crassly stated, but is usually subconsciously communicated. Ministers, as well as their congregations, need to realize that ministry is a two-way enterprise.
(Note, we do not use the term "clergy". My husband is not "ordained". He is simply a Bible teacher and serves our local group of Christians in that capacity.)
My first impression was that this was not really a problem for me. After all, I could name off several times I have asked for help. But the further I read and the more I reflected, the more I realized that there is often a "great divide". I have asked for help on superficial things including projects for the church and physical tasks, but when it comes to anything beyond that, I have remained self-sufficient and admittedly fearful of revealing personal weakness. Mrs. Mains says, "Each of us at some time should experience the taste of weakness."
Now I don't think we should contrive a situation of helplessness just for the sake of the experience, but I know that for me personally, pride would very likely push me to the edge of my sanity before I would ask for help. I don't think I am alone in this. It is very easy for Preacher Man and I to take burden after burden upon ourselves and our family, both spiritual burdens and physical tasks. We take our burdens to the Lord daily, but perhaps we need to do a better job taking our burdens to our brothers and sisters in Christ? I am learning that I do a dis-service to my brothers and sisters here when I do not use them and work together with them. We want people to get connected to our family of Christians here and sometimes people need help doing that. People like to be needed. People like to use their God-given talents to help.
We must learn how to balance this as we read in
Galatians 6:1-5
-
"Brothers, if anyone is caught in any transgression, you who are spiritual should restore him in a spirit of gentleness. Keep watch on yourself, lest you too be tempted.

Bear one another's burdens, and so fulfill the law of Christ

. For if anyone thinks he is something, when he is nothing, he deceives himself. But let each one test his own work, and then his reason to boast will be in himself alone and not in his neighbor.

For each will have to bear his own load.
"

We learned we need to let go of those things which can't be done. It is simple but difficult to realize that the Lord is the head of the church. We are stewarding on His behalf within it. If there are personnel or program gaps, it is His problem.
I was floored when I read that. Of
course
I know the Lord is the head of the church. But how difficult is it for me to just let go and leave things undone? SO HARD! How difficult is it for me to let go and wait for another brother or sister to step in knowing that there is a chance that no one will and that it may cause a problem? SO HARD! See, I am very much a forward thinker, I'm detail oriented, and I'm a doer. These are all useful traits. It means that I look farther ahead than most people and notice what needs to be done or notice a problem long before it happens. Being a doer, it is in my nature to just quietly solve that problem myself. But this is not always healthy for me or for the rest of the congregation.
Preacher Man is helping me to learn this. I think it will be good for my future sanity, and for our fellow workers, but it is one of the hardest things I have ever done. So I am learning this life lesson - sometimes I can help by fixing a problem myself, but sometimes the best way for me to help is to let God take care of the problem. After all, He is the head of the church. Not every burden is my burden, and I need to let go of the ones that are not.
The chapter covers more than just this topic, but that is what was the most useful for me. So I will end now with one more little gem of encouragement:
Our homes are used to build one another, to bind ourselves together - not to create barriers of needless competition or comparisons. We can provide healing when we offer to one another small refuges from the battle.