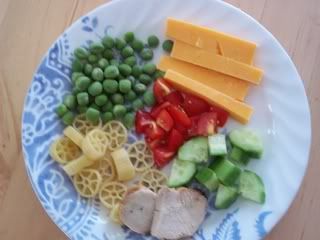 Isn't that pretty? I get so tickled when food looks pretty. Preacher Man thinks I'm a nut because of this, but there it is. :)
One of our favorite summer lunches is a simple "munch plate". The Littles love them, they can be so pretty, they are nicest with fresh fruit and veggies, you can use them to clean out odds and ends from the fridge, and they don't heat up the kitchen!
Sometimes I do themes, which is especially fun with toddlers and preschoolers. Orange is a very simple one: oranges (obviously!) or peaches, chunks of cheddar, goldfish crackers, carrot sticks
Most of the time, I just throw everything on a lunch plate, but if you have any sectioned plates around, that can be nice. Tiny bits in an ice cube tray is also quite fun.
You can use anything and everything, though finger food is preferable. Some inspiration:
Protein:
nuts - we are partial to almonds
hard cooked egg or deviled eggs

chunks of cooked chicken or other bits of leftover meat
cheese cubes
hot dog cubes
rolled lunch meat
mini meatballs

Fruits:
apples
pears
mandarin oranges
sectioned oranges/grapefruit
peaches or nectarines
pitted cherries

grapes
banana chunks
mango
pineapple tidbits
raisins or craisins
strawberries, raspberries, blueberries, blackberries
chunks of melon
avacado chunks

Veggies:
fresh peas in or out of the pods (the ones in the picture were freshly shelled and uncooked)
bell pepper
cucumber
carrot sticks

broccoli florets
cauliflower florets
fresh green beans uncooked (surprisingly good!)
celery (my Littles don't like the strings though)
cherry tomatoes
mushrooms
radishes
Carbs & Other:
dry cereal
cubes of bread
crackers
cooked pasta shapes
black beans or chickpeas (drained thoroughly)
pickles & olives
Do keep in mind that some of these are choking hazards and select and cut accordingly.
This post is a part of the
Four Moms Lunch Menu Linkup
.