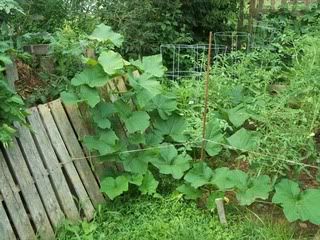 I've been a little restless these past couple of weeks. I'm getting impatient. I'm still getting a bit of lettuce and kale thanks to my
nicely shaded lettuce pots
. I have a lovely host of fresh herbs, but I'm not getting any other large vegetables right now except for one or two little peppers a week. This just isn't cutting it.
I'm playing the waiting game, and I didn't realize that this is what would happen when I planted so many late summer vegetables. I also didn't realize that pole beans take longer to grow than bush beans. Maybe next year I'll plant some of both! Hopefully soon, the green beans will be ready to saute with a fresh tomato or two. I have to admit, I am green with envy when I see my southern friends feasting on tomatoes and watermelons! It's hardly fair!
The peas have been pulled out and brussel sprouts have been planted in their place for the fall. A few recent discoveries have kept me excited about our garden.
Do you like surprises? When it comes to the garden, I LOVE them! I love seeing the volunteers that come up each year. This year, I have a magnificent butternut squash vine growing out of my compost box! I also have several nice tomato plants both in the compost box and in other surprising places. I think volunteers are fun, especially the mystery squashes! Sometimes they have to be ripped out when they grow too near more important plants, but I like to make room for them when I can.
Here is another surprise in my flower and herb garden. Do you know what it is?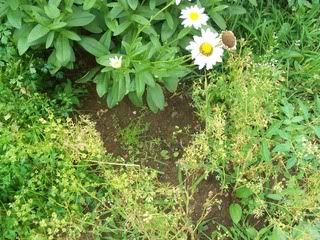 Let's zoom in for a closer look: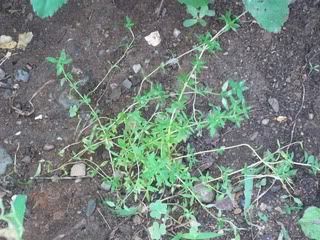 It's thyme! I was pulling weeds around the cilantro when I caught a distinct whiff of thyme. I looked in my hand, and what do you know? I had a sprig! I looked closer around the ground and found a sweet little patch. I weeded around it and even sacrificed some cilantro to make more room. I actually planted thyme along with the other seeds, but I didn't think it ever came up. It was a happy surprise to find it nestled under the daisies.
Well, it's a sunny day that actually isn't scorching hot, so I'm going to go enjoy it! I hope your day is just as lovely.
This post is a part of the
Busy Mom's Guide to Frugal Gardening linkup
.