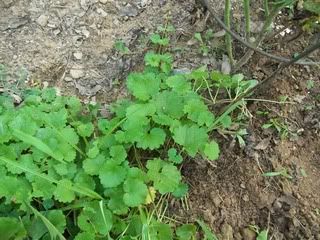 "creepers" going after a tomato plant
Weeding must be my least favorite job in the garden. It can be grueling. It's hot, it makes my back ache, and they just keep coming back. Like washing dishes and doing laundry, it seems like the job is never done. Still, it is extremely important.
Once upon a time, Church Mouse found out she was pregnant after planting the garden in the spring. Spending the first trimester of pregnancy (and all of the fatigue and nausea that goes along with it) in the heat of the summer meant that I did almost no weeding until August. What a mess I had on my hands! The weeds were as tall as the tomatoes, and it looked like the entire lawn had moved into our garden plot! I systematically cleaned things out, but I learned some lessons along the way.
First and foremost, I learned just how important it is to keep up with the weeds. Just doing a couple of rows a
week
would have made a huge difference. I also learned that there are many different kinds of weeds and each one likes to wreak havoc in its very own way.
My least favorite weeds are the "creepers". They are viney and trail along the ground, sending out runners with shallow roots. They entwine themselves around the plant. Disentangling them is very tricky and often causes damage to the plant. I can't tell you how many times I've pulled out a nice vegetable plant along with a weed, and that is always a sad moment.
A second type of weed are the ones with deep tap roots such as dandelions. If you pull them from their greens, they will snap right off and you may think you've gotten rid of the weed. The problem is that there is a deep tap root running down that will just sprout another weed top in a few days. It takes a lot of work to dig out the tap root, but it must be done if you want the weed gone for good.
Another nasty kind of weed are the pricklers. You may not realize what kind it is until you grasp it in your hand and OUCH! Pricklers make weeding a pain... literally!
Did you know there are weeds that imitate certain plant? Sometimes it is difficult to tell a weed and a plant apart. One year I lovingly tended what I thought was a tomato plant, giving it extra water and fertilizer. I felt both foolish and furious the day when I realized that it was a weed!
And finally, I learned a LOT about what kind of damage they can do. Weeds can kill a plant. They stifle and suck all of the nutrients away that should be going to the fruit. Weeds also shade and cover the base of the plants in a way that doesn't allow airflow. Plants are smothered and the cover from the weeds allows insects, larvae, pests, and mold to thrive, so you no longer just have to worry about weeds, but now you are dealing with a whole host of other nasty invaders. Yuck! Also, if the base of the plants aren't getting enough air and sun and remain too moist, they can rot out. And saddest to me is when the plants grow getting their support from the weeds themselves. When the plants and the weeds grow up side by side for too long and you finally decide to take the weeds away, the plant can be too weak to support itself. If weeds are not kept in check, the best case scenario is that your plants will not realize their full potential in bearing fruit. The worst case scenario is that the plant will die, being slowly choked out by the world. Oh did I say world? I meant weeds!
So now maybe you can guess what I plan to say tomorrow when I post "Wednesdays With the Word." ;)
The battle against weeds in your garden is a grueling one. Be vigilant! Be watchful! But more important,



1 Peter 5:8

- Be sober-minded; be watchful. Your adversary the devil prowls around like a roaring lion, seeking someone to devour.
This post is linked with the
Busy Mom's Guide to Frugal Gardening
.