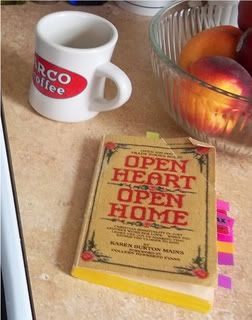 A study of Chapter 9,
linked with the Common Room's ongoing study of this book.
I feel like my studies on this subject have been pretty gloomy lately. I'm going to try to brighten things up with this one.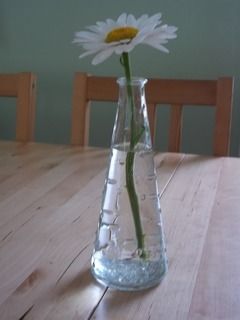 Ah... I feel better already! Don't you think that daisies are the friendliest flowers?
In this chapter, Mrs. Mains discusses our family, specifically, our Christian family. She talks about how to build our relationships with one another. Because closeness doesn't just happen, you know. It takes a lot of work!
I especially enjoyed this bit where she quoted the evangelist Tom Skinner -
We are a family. Brothers and sisters in Christ. What's mine is yours and what's yours is mine.

Then when people ask, "Where's love?" we can answer, "Over here!"

When they ask, "Where's justice?" we can answer, "Over here!"

When they ask, "Where's unity?" we can shout, "Over here! In Christ's new community!"

May I add that when they ask, "What's happened to the family?" we should be able to respond, "It's alive and well. It's here - in this community cluster, this warm, sheltering, loving, accepting body of Christ."
Oh that we could all enjoy this ideal! All over the world, people yearn for this kind of community, and it is becoming an increasing rarity in modern society. I'm afraid it does not come easy. It requires an investment of time to build these kinds of relationships, and many people that gather together with their fellow Christians on Sundays don't prioritize their time in a way that allows this kind of Christian family community to develop. If we are only showing up for the official times of meeting (and perhaps not all of those) and spend no other time with our fellow Christians, it will not be enough to do it.
Her husband David writes,
An individual believer is able to worship or pray alone. He can share his faith apart from the church, and he can even adequately instruct himself along spiritual lines. It is obviously impossible, however, for him to participate in Christian fellowship without others who share his beliefs.
God knew that we needed each other when he wrote this:
Hebrews 10:22-25

- Let us draw near with a true heart in full assurance of faith, having our hearts sprinkled from an evil conscience and our bodies washed with pure water. Let us hold fast the confession of our

hope without wavering, for He who promised

is

faithful.

And let us consider one another in order to stir up love and good works, not forsaking the assembling of ourselves together, as

is

the manner of some, but exhorting

one another,

and so much the more as you see the Day approaching.
In order to be a family of joint heirs with Christ and with one another, we must spend time together in worship and in fellowship. We
need
our Christian family. We need to be stirred up to love and good works. We need exhortation. And in turn, we need to give it back to our brothers and sisters in Christ.