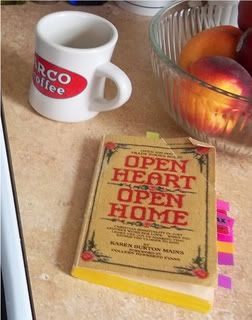 Chapter 10 - Open Homes
Many a pastor's wife participates in minimal efforts of hospitality because she realizes that, though she invites some, she may not be able to invite all.
I believe that except in very rare cases, you
can
invite them all.
For several years, Preacher Man and I were a part of a very small congregation that had a beautiful example of hospitality in one of the older ladies of the congregation. For a time before we came, it was only she, her husband and her son keeping the doors open. Everyone who ever visited was invited to her home for lunch, except in the summer time, when they were invited to a picnic at a local park. When we arrived, the group expanded somewhat to 6 people, and then 8. There were just 8 of us for quite a long time. The older woman, myself and another hospitable lady took turns hosting everyone for lunch each week. This three home rotation worked beautifully and we were a very close knit group. The group began to grow, and even though we are no longer there, the size of the group has swelled to many times the size of when there were only 8 of us. The group is now too large to get together every week, but there are still summer picnics, and one woman with a larger home hosts everyone about once a month for Sunday lunch. It is a beautiful example of open hearts and open homes and the growth that can come as a result.
When Preacher Man took a job at a much larger congregation, I soon realized that I could not host everyone in our home. I also realized that it would take years for me to systematically invite each family to our home for a Sunday lunch and I was overwhelmed by the prospect. I did not want to show favoritism though, and I wanted to be sure that each person in the group had been invited to our home. Another PW who is a lovely example of hospitality for me, gave me the following idea -
I tracked down the birthdays for each person in our group. I cataloged them, making a list for all of the birthdays for January, all for February, etc... For one year, each month, on the fourth Sunday of the month, everyone who had a birthday that month was invited to our home along with the rest of their family for cupcakes and drinks. We invited some of the singles or women who came alone with no other family connections to come to some of the months with fewer birthdays even if they didn't have a birthday that month. We arranged for the time to be about 2 hours before evening services, leaving plenty of time to sing happy birthday, to visit, and to get to the place where we meet close by. I kept things very simple - I made easy cupcakes, though they were homemade. Preacher Man makes killer coffee, and I'd put out some sodas. I used paper dessert plates, cups, and napkins, and the only thing I did to decorate was to make a poster that said "Happy Birthday" with the names of all of those who had a birthday that month.
This was a great idea because -
Everyone received an invitation to our house at least once. (Most more than once.)
It always made for a random mix of people... people who might not have a reason to spend much time together outside of our worship... people who might not have very much in common.

It was a little sad when some always declined the invitation, but I hope they still felt welcome here. Admittedly, it was a little exhausting, but I am glad to have done it, and I would like to do it again in the future.
If you feel discouraged by your inability to be able to invite everyone, perhaps this will give an idea of something you could do.
Do you have any creative ideas for inviting everyone into your home? I feel like there are some who are so often left out, and I'm always looking for ways to draw them in and get to know them better.
This post is a part of the study of the book, Open Heart, Open Home by Karen Mains hosted by The Common Room.