Very simple, and very tasty, this is a perfect company meal for fall! May I suggest pumpkin cheesecake for dessert? Mmmmmmm!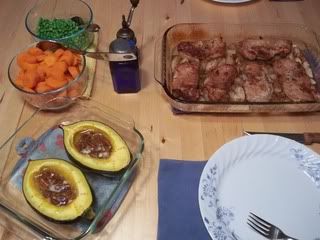 Pork Chops and Apples
3 lbs. apples, peeled, cored, sliced
1/4 c. brown sugar
cinnamon
2 tbs. butter
6-8 pork chops
salt & pepper
1/2 c. white cooking wine, sherry, or chicken broth*

*I ran out of cooking wine, and the last time I made it, I thought using just the broth missed a bit of the spark I so enjoyed in this recipe. I found a wonderful way to add the missing "spark" is to add a Tbs. or two of apple cider vinegar to the broth. It worked perfectly!
Brown the pork chops in a little bit of oil in a skillet.
In the meantime, grease a 9x13 pan. Arrange the apple slices in the bottom of the pan. Sprinkle the brown sugar and a generous amount of cinnamon on top. Dot with the butter.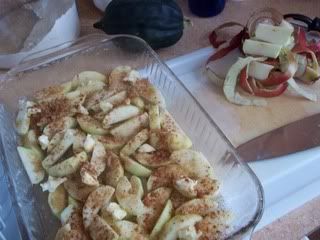 Lay the pork chops over the apples. Sprinkle with salt & pepper to taste. Pour your liquid of choice on top and bake at 350* for one hour.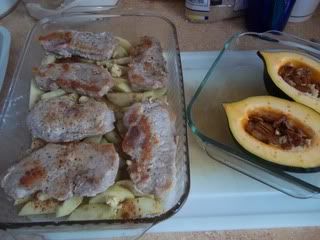 Acorn Squash
Cut your squash in half lengthwise and scoop out the insides.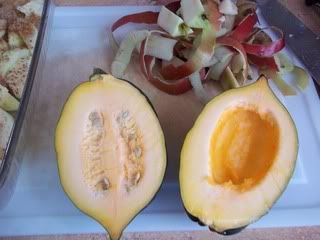 Prick both sides gently all over with a fork. Fill the cavities of the squash with a Tbs. or so of butter, brown sugar to taste and some walnuts or pecans.
Put the halves into a small baking dish (8x8 works well) and add some water to the pan until it is about 1/2" deep. Bake with the pork chops for about an hour.
Fall Inspired Green Salad
1 head of romaine, washed and torn
2 small apples, cored and chopped
1 small red onion sliced as thinly as possible
a handful of craisins
a handful of pecans or walnuts coarsely chopped
1 small carrot, grated
tastes delicious with raspberry pecan or poppy seed dressing
Pin It