It's Potluck Saturday!!!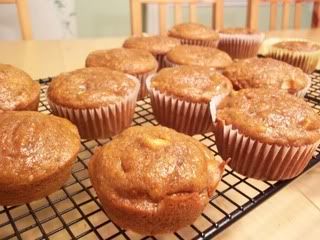 This is one of those recipes that I have tweaked beyond recognition, so I feel entitled to claim it as my own. These are YUMMY and rather healthy as muffins go, so slather on the butter, and enjoy a delicious, seasonal treat!
Apple & Pumpkin Muffins
3 c. whole wheat flour
1 c. brown sugar
1 tsp. ginger
1 tsp. cinnamon
1/2 tsp. cloves
1/2 tsp. nutmeg
1 1/2 tsp. baking powder
1 tsp. baking soda
1 tsp. salt
4 eggs
1 tsp. vanilla
15 oz. can pumpkin puree
1/2 c. oil (I prefer coconut)
1/2 c. applesauce
1 c. honey
1 c. chopped walnuts
2 apples - peel, core & chop
Mix the dry ingredients thoroughly, then add in the wet ingredients and mix. Fold in the walnuts and apples. Prepare your muffin tins with paper liners or be generous greasing them with butter. Spoon into muffin tins. Bake at 350* for about 20 minutes. The tops should be springy when they are done. Let them cool a little bit in the pans before removing them.
*I got 2 1/2 dozen out of this recipe and I have a handy little half size tin I like to use. If you don't, make 2 dozen big ones or 3 dozen small ones.
These would be yummy cut in half with apple butter... or pumpkin butter...
*running off to eat another*
Pin It