Hebrews 13:5
-
Make sure that
your character is free from the love of money, being content with what you have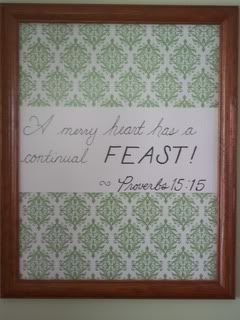 Philippians 4:11
-
For I have learned to be content in whatever circumstances I am.
Disclaimer: This is rather individualistic, so I write to share my own struggle, not to criticize those who may not share my thoughts. Personally, most of my gifts are homemade and what I do buy, I buy throughout the year so I can avoid shopping as much as possible this time of year. So if you are one of those "shop 'til you drop folks"... by all means enjoy and give the glory to God.
Thanksgiving is my favorite holiday. I love the warm, homey atmosphere of food, family, and joy and I love that the day remains rather noncommercial. I love simple traditions and I am not one to go all out with decorations and fuss. But I feel oppressed. Is it just me, or is the intensity of the shopping mania that is "Black Friday" reaching a whole new level? It goes beyond just one day. Stores are competing to open earlier and earlier with bigger sales, and now you can even start your Black Friday shopping on the evening of Thanksgiving at 10 pm! We've been inundated with glitzy sales fliers in our mailbox for weeks. No longer limited to "Cyber Monday", the internet is teeming with sales all week long as evidenced by my e-mail inbox and the advertising on the blogs I follow. I love a good deal as much as the next person. But this is too much. I am finding it oppressive. The hunt for a good deal is turning into a case of
"stuffitis"
, that suffocating disease that chokes out my peace, joy and contentment. I feel it encroaching on Thanksgiving, and not just the holiday we celebrate, but upon the day-to-day giving of thanks.
I do not need more stuff.

I really, really, really don't need more stuff. Stuff can be nice, but stuff also means more things to clean and maintain. I am making the conscious choice, giving myself the gift, of moving into the state of contentment. We have already been in the process of downsizing, but now I am giving myself permission to toss all sales fliers directly into the recycling bin, delete all blogs in my feed or e-mails in my box no matter how tempting the sales. Instead, I will turn on my peaceful music and focus on the joys of the season with my family... making, doing, just BEING together.


In the state of contentment, there is peace, clarity, and serenity. God gives us everything we need.



1 Timothy 6:6-10




But godliness is a means of great gain when accompanied by contentment. For we have brought nothing into the world, so we cannot take anything out of it either. If we have food and covering, with these we shall be content. But those who want to get rich fall into temptation and a snare and many foolish and harmful desires which plunge men into ruin and destruction. For the love of money is a root of all sorts of evil, and some by longing for it have wandered away from the faith and pierced themselves with many griefs.
Ann Voskamp
says it simply, but well, "turn the carols up louder and remember all His gifts — And happily become the gift!"
Pin It