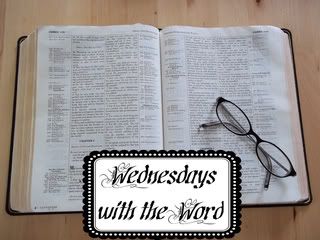 Many prominent characters in the Bible who were mighty men of God went through a period in their lives where they were isolated and alone. Is this just a coincidence? I think not. It seems that God used those times as an opportunity to test these men and increase their faith and reliance upon Him. These times of testing may very well have prepared these men for their great challenges to come.
Here are a few quick examples:
Abraham - leaving his homeland to go to a new land
Moses - spent 40 years as a shepherd in the wilderness
David - spent years in the wilderness running from Saul
John the Baptist - lived in the wilderness
Jesus - the ultimate example when he endured 40 days of temptation in the wilderness
I'm sure you can think of others.
All of these men have something else in common. The wilderness. Their time of trial and testing came in the wilderness.
Do long days at home with little ones and working to meet their continual needs feel like living in the wilderness to you? Sometimes I feel that way. Most days, I feel alone. Most days, my body is physically pushed to the limit. Most nights, my sleep is poor and interrupted. Most days, my patience is tested to the breaking point. The terrain is rough too - there is a constant battle against mounds of laundry, dishes stacked to the sky, and there are toys, shoes and socks strewn EVERYWHERE! It's a wild, wild world, I tell you! And I KNOW that I have it easier than many of you ladies out there!
Some women deal with their time of trial in the wilderness (i.e. - life with only littles) by trying to escape as often as possible with "Me time". Some women try to just plough through it as quickly as possible by having their desired number of children in a very short amount of time so they can just get it over and done with and move beyond the diaper days.
May I suggest a different way?
Allow yourself to be "saved through childbearing".
(2 Timothy 3:15)
USE this time of trial to work on your character, sanctify and purify yourself, and above all, make yourself more like Christ. Work every single day to continue in "faith, love, and holiness, with self-control". If we are willing to submit ourselves to God and say, "not my will, but thine", God will have an opportunity to work in us as He has never done before.
Every day that we are living life with Littles we face The Tempter head on. The Tempter tests us through bowls of oatmeal dumped on the floor, dealing with dirty diapers in the middle of your meal, asking you to jump up to fetch something for the dining table so many times that you wonder why you bother sitting to eat, and by making every square inch of each child and high chair smeared with more food than you remembered putting in their bowls!



It is written, "Man shall not live by bread alone, but by every word that proceeds from the mouth of God."

(

Matthew 4:4)
Another day, your baby has a fever and needs to be held non-stop, your toddler has 5 potty accidents in one day, your husband is out of town for the week, so you have to do the best you can all by yourself. You feel alone and start having a pity party for yourself. Worse, you say, "God are you even here? Do you see what I am going through?"
(see Exodus 17:7)



It is written again, "You shall not tempt the Lord your God."

(Matthew 4:7)
The Tempter challenges us yet again by conspiring to prevent tired and cranky children from falling asleep and getting a good nap. You have been there right? The phone rings and it is a telemarketer, next UPS delivery rings the doorbell, and finally, just as those sweet eyelids flutter finally flutter closed, the blinds fall down from the windows with a crash. Your afternoon quiet time you meant to spend with The Word is ruined. Will you put God aside for today and just spend time with the TV and Facebook?



Away with you, Satan! For it is written, "You shall worship the Lord your God, and Him only you shall serve."

(Matthew 4:10)
Remind yourself, it is all about
sanctification
and
purification
. It is a part of the refining process.
James 4:7-8 -
Therefore submit to God. Resist the devil and he will flee from you. Draw near to God and He will draw near to you. Cleanse your hands, you sinners; and purify your hearts, you double-minded.
1 Thessalonians 5:16-25
-
(adaptation)
Rejoice always.




Pray without ceasing.




Give thanks in all circumstances.




Hold fast what is good.




Abstain from every form of evil.

Now may the God of peace Himself sanctify you completely, and may your whole spirit and soul and body be kept blameless at the coming of our Lord Jesus Christ.

He who calls you is faithful.


Sisters, pray for us.
Pin It
This post was inspired by a wonderful message from a very impressive young man named Dan Koen. I'm sure he did not have motherhood in mind as he spoke, but that is where my thoughts automatically went, and I wanted to share them with some other mothers out there who may be working through the same type of thoughts.