Do you feel stressed? Do you need a calm and peaceful 15 minutes? Painting with watercolors is one of my favorite rainy day/"I need a break" activities to do with children. Turning on a peaceful piece of classical music and painting is food for the soul both for you and your children. My husband says his fondest memories of elementary school were when his teacher reserved a two hour block each Friday devoted to watercolor painting. There were no assignments, just free painting. We all have a deep need for expression, and watercolors can be a lovely outlet.
Buy a tray of cheap, washable watercolor paints for each child and keep them stashed with some heavy weight paper in a handy place. I recommend using shallow, wide-based containers for the water to avoid spills. If you have a toddler, you'd better have a towel handy anyway. ;) Turn on the music, and paint away!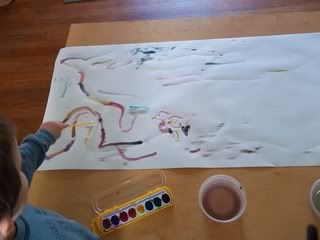 May I recommend "The Lark Ascending" by Ralph Vaughan Williams? Tell your children the music is about a bird in flight and ask them to paint what they hear. It doesn't have to be a picture, just listen, feel, and paint.
Another musical activity, is to let the children spatter paint on a large staff. If they are learning to read the names of the notes on the staff, labeling them is a great exercise. If they know an instrument, they can try to play what they paint. If they are a toddler and a pre-schooler like mine, they can just enjoy "painting the music".
Spilled watercolors are easy to wipe up with a t-shirt rag and some vinegar in a spray bottle. Don't let the fear of mess keep you from enjoying painting with your children.
And lastly,
please don't let my blogs make you feel badly about yourself.
I like to share my life and what works for me, and the last thing I want to do in sharing is to stress you out! Live a righteous life to the fullest, and do so free of guilt!
Wishing you a peaceful Friday!
Pin It