It's Potluck Saturday!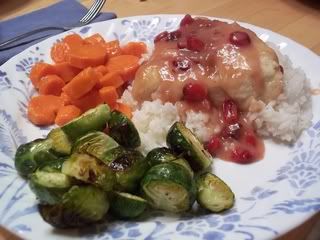 If my house were on fire, and I could only take one recipe with me, this is the one I would grab! Seriously! This is a heavenly skillet dinner! It is a very impressive dish to serve to company. I love serving it with
hot yeast rolls
, steamed broccoli and glazed carrots. We actually ate this for Christmas dinner one year! If your family likes it, be sure to stock up on cranberries this winter, they freeze very well!
Cranberry Chicken
1/2 c. flour
1/2 tsp. salt
1/4 tsp. pepper
6 boneless skinless chicken breasts*** (I've used thighs too, trim them well though!)
1/4 c. butter
1 c. fresh/frozen cranberries
1 c. water
1/2 c. brown sugar
dash ground nutmeg
1 tbs. red wine vinegar
cooked rice
In a shallow dish, combine flour, salt & pepper. Dredge the chicken in the mixture. In a skillet, melt butter over medium heat. Brown the chicken on both sides. Remove and keep warm. In the same skillet, add the cranberries, water, brown sugar, nutmeg & vinegar. Cook and stir until the cranberries burst (about 5 min.). Return the chicken to the skillet. Cook and simmer for 20-30 min. or until chicken is done in the middle, basting with the sauce occasionally. Serve over rice.
Serves 4-6
I have also doubled this recipe and finished it off in a 13x9 pan in the oven. It doesn't turn out *quite* as perfect, but it is still very, very good, is definitely company worthy, and you can feed more people this way.
*** The boneless, skinless chicken breasts I see most of the time are HUGE, so if this is the case, I recommend using only three and cutting them in half to achieve the correct ratios in this recipe.
(From an old Taste of Home recipe card I found at a garage sale at least 8 years ago.)
What is your "if my house was on fire..." recipe? :)
Linking up with the Four Moms sharing Favorite Fruit Recipes.
Pin It