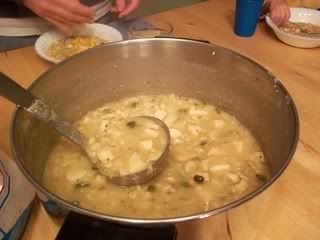 It's Potluck Saturday!
This is a family favorite that has been well-loved by company too. I love that this soup is so delicious and simple. It is also gluten/dairy free if you use the recommended low-sodium Better Than Bouillon. This makes a big batch that fills my 8 qt. stock pot, so if you don't want quite so much, cut the recipe in half. You can also freeze any leftovers.
Enjoy!
White Chili
- olive oil
- a family pack of bone-in chicken breasts (my package was almost 5 lbs.)
- 2 onions, chopped
- 2 fresh poblano peppers, seeded and finely chopped
- 1 green bell pepper, chopped (optional)
- 12 garlic cloves, minced
- 6 tsp. chicken bouillon (I recommend organic or low sodium Better than Bouillon)
- 4 teaspoons whole cumin seeds (ground will not withstand long cooking)
- 2 tablespoon finely chopped fresh oregano leaves, or 2 teaspoon dried
- 2 lbs. dried great northern beans - cooked and salted to taste
Optional garnish: cheddar or monterey jack, tortilla chips, avocado slices, or diced tomato
Lay the chicken breasts out on a cookie sheet or baking dish and drizzle lightly with olive oil. Bake at about 325* until done - took a little over an hour for mine. Let them cool, then pick off the meat and chop it into chunks. (Save the bones for stock!) Mix the chicken in with the cooked beans. Saute the onions and peppers in a pan in a little olive oil. When the onions and peppers are getting brown, add in the minced garlic and saute a few more minutes. Mix the onions, peppers, garlic, spices and chicken bouillon into the pot. If the chili needs a little more liquid, add some, but I find that it has plenty from the beans. At this point, you can either simmer it a while on the stove, or transfer it to the crock pot. Everything is cooked at this point, but I like to let the flavors meld for a little while, so simmer for at least 30 minutes.
Pin It