Speaking of
fruit...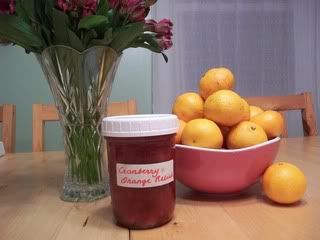 Oranges are abundant (and cheap!) this time of year. Oranges are such a nice cleansing food being rich in vitamin C and sweet, but not overly sweet like all of those holiday treats. My favorite part of the orange is not the flesh, but the zest! I love the intense flavor and nice texture of orange zest, and it is a key component of my
Granola
,
Cranberry Orange Relish
, and
Sugar Cookie
recipes. Zest is a nice addition to quick breads and muffins and if you use the zest of lemons, you can make some amazingly delicious pan fried or broiled fish, roasted chicken, or my all time favorite,
lemon garlic chicken
.
Got your mouth watering yet?
Ok, back to oranges...
The best way to get all of your money's worth out of an orange is to first use the zest, and second, cut it up or carefully section it to eat the flesh. (An orange with the peel removed is also much, much easier for the littlest tots to eat.) If these techniques are new to you, here is how you do it.
This is a zester.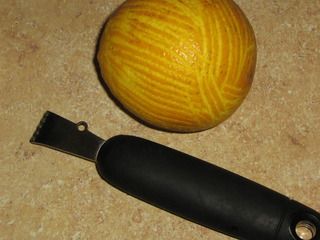 I use the tiny holes, though you can use the single large side hole if you want large chunks of zest. Gently scrape off all of the peel, but don't scrape off the white layer underneath. That part is bitter.
To section your orange, cut the ends off.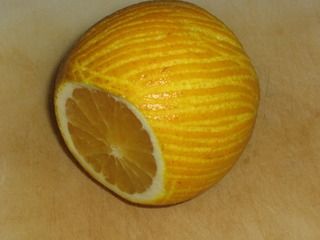 Lay one of the cut sides down and carefully cut away wide strips of peel all the way around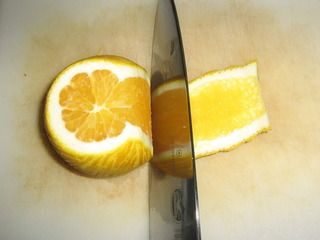 Your orange will look like this: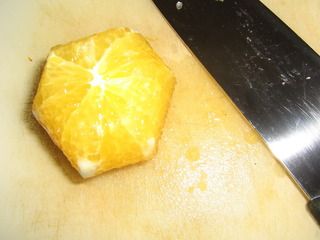 I usually just cut this part up into chunks for the littles, but if you want pretty orange sections (these are nice in salads), you can just use a sharp knife to cut as close to each side of the white membrane separating the sections as possible. The sections should slide right off into your bowl.
Having an orange gives you a taste of sunshine in midwinter. Enjoy!
Pin It