Psalm 119:36-38 -
Incline my heart to Your testimonies,
And not to covetousness.
Turn away my eyes from looking at worthless things,
And
revive me in Your way.
Establish Your word to Your servant,
Who
is devoted
to fearing You.
Can you tell that I have edited this book?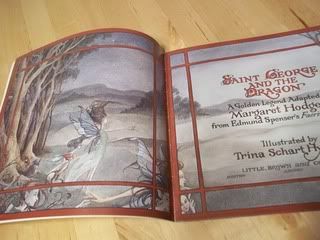 I can hardly tell myself and I am the one that did it!
This subject is debatable, I'm sure, but Preacher Man and I feel it is important to help our children learn from a very young age that we ought not to look at worthless things, including pictures of unclothed people, and in this case, "fairies". We ruthlessly take a sharpie to anything deemed inappropriate that we feel is still worth keeping. In this instance though, the pictures were so lovely and ethereal,
Saint George and the Dragon
won a Caldecott afterall, and I didn't want to end up calling more attention to what were rather subtly unclothed fairies. The book sat on my desk for several weeks until I remembered my silver paint pen! You can hardly see where I painted clothes on the fairies, and most are very subtle in the border.
Anyway, just wanted to be an encouragement to others. If something just doesn't sit right with you, don't be afraid to pitch it altogether, or take the liberty of editing for the sake of your children. This extends to books that we feel send the wrong message (and there are so, so many out there!) or language that we don't appreciate. You may have to take the long way around in the mall (or just avoid it altogether) or be protective of their eyes in the check out line at the supermarket. You may think a pre-school child is too young to notice such things, but believe me, they are not! They are sharp and often,
I
am the one that doesn't notice such things! And no matter how much you try, you won't be able to shield them forever, and lots of talks will need to take place to adequately equip these little souls to take on the world. Protect them, yes, but don't fail to arm them!
What are some ways you help your children learn to be careful with their eyes?
Pin It