Yummy and frugal, this is another family favorite! It's a great way to use up leftover bits of ham. This takes a lot of time in the oven, so plan accordingly. This is my own variation on the version in my Betty Crocker cookbook.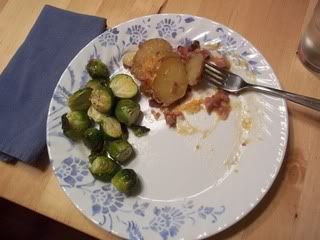 Scalloped Potatoes
3 pounds of potatoes (about 9 medium)
3 tbs. butter
3 cloves minced garlic
1 medium onion, finely chopped
3 tbs. flour
1 tsp. salt
1/4 tsp. pepper
2 1/2 c. milk (I actually use rice milk)
Cubed or sliced ham (opt.)
2 c. grated cheese
Cook the potatoes by either boiling them or baking them. I usually bake potatoes in large batches. I fill a 13x9 pan with potatoes scrubbed clean with holes poked in them all over. Drizzle them with olive oil, sprinkle with some salt, and bake at about 300* until they are done. This usually takes about an hour and a half. Wait until they are nice and cool and slice them up rather thin, putting the slices right back into the 13x9 pan they came from. I cover the pan with plastic wrap and refrigerate until I'm ready to make scalloped potatoes for dinner. If I have extra potatoes we usually eat them for lunch or I make home fries or hash browns with them.
Get a large-ish saucepan and saute the onions and garlic in some butter or olive oil. Sprinkle the onions and garlic on top of the potatoes. Add your cubed ham sprinkling it on top also.
White sauce: Using the same saucepan, melt the butter over low heat. Whisk in the flour, whisking constantly until it bubbles. Stir in the milk and heat to boiling, stirring constantly. Boil and stir about 1 min. Pour the white sauce evenly on top of the potatoes, cover with foil, and bake in a 350* oven for about 45 minutes. Uncover, add the cheese and bake another 30 minutes or so. Enjoy!
Serves 6-8 as a main dish - you can leave the ham out and it can be more of a side.
Pin It