Thankful Thursdays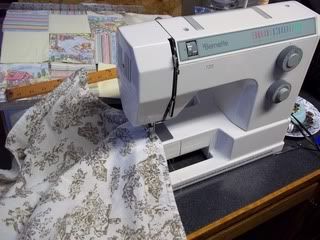 Today I'm very thankful for my sewing machine. I'm almost equally thankful for a large desk that I use as my sewing table and the fact that I have the space to keep my sewing machine and iron set up and ready to use at all times. Not having to haul everything out every time I want to work on a project means that I use it MUCH more often!
Anyway, my lovely little Bernette was just given to me by my mom when my machine was near the end of its life. This is my mom's old machine that she bought back in the early 90's, but it is still humming along beautifully for me! My sewing machine saves me a lot of money. I am able to make frugal gifts for friends, make my own curtains, mend clothing easily, sew modest clothing, or make alterations to make things modest. Personally, I think every girl ought to have some basic sewing skills. Mine sure have been useful!
I've been doing some mending lately, working on patching some jeans and I put new elastic in a waistband for Big Littles. I have a pair of pants that need hemming as well. I'm taking pictures as I go, with the idea of posting them as a tutorial here. Any requests for sewing tutorials? It would need to be something I would do anyway, but I'm happy to hear what my readers would be interested in learning.
The internet is such a wealth of information, but if you want to acquire some basic sewing skills, your library probably has a copy of the Singer books. My favorite is the
Sewing for the Home
volume. You will find step by step instructions complete with pictures - they make it very easy! This book is where I learned how to make curtains and make a mitered corner.
What do you like to sew? What would you like to
learn
how to sew?