HMF = Hungry Mama Food
You need HMF if you are a nursing and milk pumping mother with littles that barely sits down all day. Quick carbs and sugary stuff just makes mama cranky, so there are certain criteria for HMF.
Best if you can eat it with one hand.
The other day, Preacher Man asked, "Why don't you fix yourself beans and rice?" I gave a sort of mean laugh (feeling badly about that one, actually) and said, "Because I have to sit down and use utensils to eat that."
Must have protein and LOTS of it!

I snack on meat. Backwards in a lot of ways, but I NEED it, especially since I have a dairy sensitive nursling. No cheese for me. :( I have not always been such a carnivore, but it is essential for survival right now.
Must leave mama satisfied for 2 hours minimum.

This is rather tough criteria, and is especially challenging on a limited grocery budget. But it's important to keep mama healthy and happy. And since I get a little tired of almonds and peanut butter sandwiches, I'm looking for creative ideas.
Of course, it could also be HTBF = Hungry Teenage Boy Food if you have some of those.
I honestly fear for the state of our food budget in about 12 years when we will be buying both HMF AND HTBF! Yikes!
Anyway, one of my favorite HMF meals is MEATLOAF! Specifically, the meatloaf sandwich!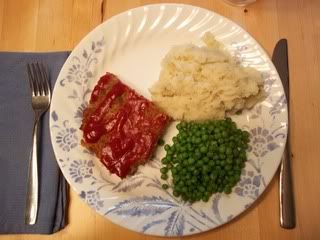 I think meatloaf has a little bit of a bad rap. For starters, the name isn't the most appealing in the world. I didn't grow up eating it, and only had it once that I remember while visiting some distant relative. And I was surprised that I liked it! It's also a very versatile dish and is a good one for hiding extra veggies. My version is different than many. For one, it's not a loaf. I like to make it in a 9x13 pan because it makes it easier to drain the grease, and because it gives more crispy edges, which I like. I also try to always
batch cook
with meatloaf. I mix up 4 lbs. at a time and freeze half in a ziploc bag for later. Very handy! I also like to use ground turkey for a portion of the meat. So here is my recipe for 2, 13x9 pans of meatloaf, just the way I like it!:
4 lbs. ground beef (the leaner the meat, the better)

4 slices of bread
4 small onions
4 cloves garlic
1/3 c. dehydrated bell pepper (optional, but I LOVE the taste!)

1/2 tsp. black pepper
1 c. milk (for dairy free, substitute plain rice milk or goat milk)
8 tsp. Worcestershire sauce
1 tsp. dried sage
1 tsp. ground mustard (I have used prepared mustard and it works well too.)
4 eggs, beaten
1 1/3 c. ketchup, chili sauce, or BBQ sauce + more for serving
Preheat oven to 350*. Break up the ground meat into smaller pieces in a very large bowl. (Seriously, you will probably need to use the largest bowl you own, or plan to divide it and mix it in two bowls.) Run the bread slices through the food processor until chopped finely and add to the meat. Quarter the onions and finely mince the onions and the garlic in the food processor too. Mix in the onions and garlic, as well as the rest of the ingredients. When thoroughly mixed, divide the mixture in pat down into two ungreased 13x9 pans. Drizzle ketchup on top. Bake for 50 minutes, then drain off the grease. Bake 1o more minutes, or until the center is no longer pink. Enjoy!
Serves 16
And for the leftovers: