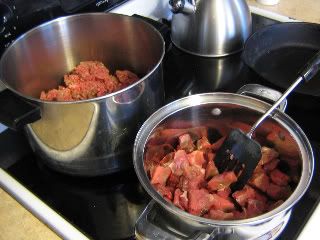 ground beef and stew meat browning on the stove
A major time saver for me is having pre-cooked meats in my freezer, ready to add to a meal like lasagna,
chili mac
, chili,
pasta fagioli
, etc.... When our grocery store has ground beef on sale, I always buy the limit. I take it home, and cook it up for the freezer while I am washing the dishes. (Yay for multitasking mamas!) I like to make the following:
meatballs for Spaghetti Sundays or meatball sandwiches
plain ground beef
taco meat (just ground beef with taco seasonings)
I used to cook the ground beef in 1 lb. batches in a skillet, but that really takes a long time! Now, I just put it all in my big stock pot, turn the heat on medium low, and stir it occasionally until it is done. Then I drain it, rinse it, and divide it into one pound portions in my labeled freezer bags. Press out the extra air and freeze them flat to be efficient with freezer space.
Now this may seem pretty elementary, but I did not know that you could freeze cooked ground beef like this when I first got married until my friend told me her mom did this. I thought this was brilliant! It saved me so much time and even money since I bought the meat on sale in bulk.
Batch cooking
- I love it!
I just heard of someone cooking the ground beef overnight in their crockpot, which would eliminate the need to stir and attend to the pot, but I haven't tried it yet. Sounds like a great idea though!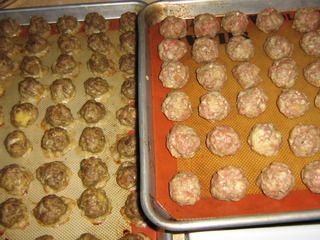 Meatballs -
cooked on the left, uncooked on the right
Potluck Saturday - Meatballs
4 lbs. ground meat (I like to use a combination of whatever is cheap - beef, turkey, or pork)
2 c. bread crumbs*
2 Tbs. Italian Seasoning**

4 Tbs. chopped fresh flat leaf parsley
1/2 c. grated Parmesan***
1 onion, minced in the food processor

4 cloves garlic, minced in the food processor

2 tsp. salt
1 tsp. pepper
3 eggs, beaten
1 1/2 c. water

* for a gluten free version, substitute crushed Rice Chex cereal or whirl some gluten free oats in the food processor
** we like
Penzeys Pasta Sprinkle
- if you are making sweet & sour meatballs, leave this out. Note - I am not affiliated with Penzeys and they don't give me money. I just love their spices. :)
*** leave this out if you need them to be dairy free - I usually substitute extra breadcrumbs
Combine all of the ingredients in a very large bowl. Mix well with your hands. Form into 1-2" meatballs, packing them so they will hold together. Try to be consistent in their sizes. (A medium cookie scoop helps with this.) Decide whether you will fry them or bake them and follow the directions below.
Frying them
: Heat equal parts vegetable oil and olive oil about 1/4" deep in a skillet over medium heat. When the oil is hot, add the meatballs in batches being careful not to crowd them too much. Keep turning them so they brown evenly. As each meatball is cooked through, remove it to a plate covered with a couple of paper towels to drain.
Baking them
: Preheat your oven to 350*. Arrange the meatballs on a cookie sheet. (I always use a silpat. If you don't have one, try parchment paper to prevent sticking.) Depending on how large you made your meatballs, they will take between 40 minutes and 1 hour to cook. Just check them from time to time, give them a shake to keep them from sticking, and see if they are done.
Serve right away, or put in a gallon size ziploc for the freezer.
My meatball recipe is based upon the one in this cookbook by Ina Garten:
This cookbook is beautiful and is filled with recipes for tasty food.
These meatballs are delicious on spaghetti, and are also yummy in
escarole soup
.