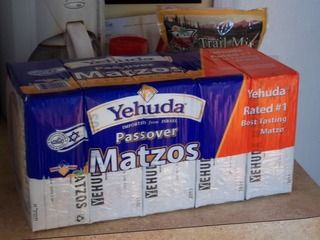 5 pounds of matzoh?
:)
Happy Passover by the way!
Kind of like the free Easter ham and the free Thanksgiving turkey, our local grocery store offers a coupon for 5 lbs. of free matzoh every year at Passover. I've never gotten them in the past because... well... we're not Jewish. I decided to just go for it this year, after all, it's free, right? I'm not one to turn down free food. So we pick up our box of matzoh and as we are checking out, the cashier says, "This coupon is for the 5 lb. box." "Oh?" I reply. "Yes, you got the 1 lb. box, but it's ok, I'll have someone go get you the 5 lb. box." "Ok" I reply. The helpful store employee comes trotting up with the GIANT package up there in the picture and I just burst out laughing. "That's a LOT of matzoh!" I say. And it was all free!
Now what to do with it? I have a few ideas. For one, I think they will stand in for saltines rather well, so I plan to try them with peanut butter. I think they will be nice crushed on top of a casserole. I plan to make some
salmon patties
and roll them in the crushed matzoh.
All Recipes only listed two:
Matzoh Ball Soup
- quite traditional
Matzoh Candy
- not so traditional
I think I'll try them both. :)
Any other ideas?