Potluck Saturday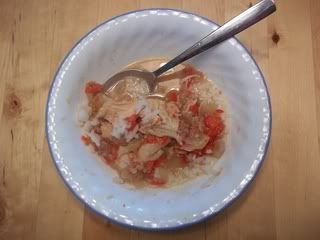 Traditionally, we have
spaghetti on Sundays
, but I discovered a great alternative for Sunday dinner - African Chicken. Even though we live so close to where we meet for worship, when we get home, everyone is exhausted and starving. Sunday dinner has to be something that I can pull together in 20 minutes or less, or something I can put in the crockpot about 5 hours before serving. It's a bit tricky to find just the right thing. This recipe is of the crockpot variety.
1 1/2 c. chicken broth
2 ribs celery, diced
2 onions, diced
2 bell peppers, diced (red looks extra pretty)
8 chicken thighs or 4 breasts cut in half
1/2 c. extra crunchy peanut butter
crushed red pepper
Combine the broth, celery, onions and peppers in the bottom of your crock pot. Spread peanut butter over each piece of chicken** and put the pieces in the crock pot. Sprinkle red pepper on top to taste. Cook on low for 5-6 hours.
(Adapted from the
Fix-It and Forget-It Cookbook
.)
Serve over rice. I also recommend gently stirring in the peanut butter before serving. It looks rather unappealing caked onto the chicken, but melts into the broth very nicely.
I think it would serve about 8 with rice and a side or two. A simple green salad would be nice, as would most any green vegetable, though crisp-tender green beans are what is on my mind right now.
**In order to prevent contamination of your entire jar of peanut butter, scoop out what you need into a small bowl for spreading.