A spontaneous homeschool lesson...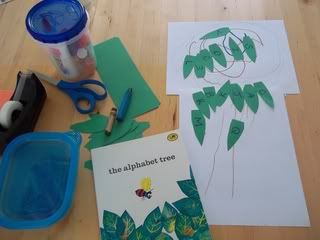 ...on the book
The Alphabet Tree
by Leo Lionni.
Leo Lionni is a wonderful author of children's books. Our Littles particularly enjoy
Swimmy
,
Inch by Inch
, and
Fish Is Fish
. I keep an eye out for his books at yard sales and at the library. I had a special time with Big Littles this past week after we read The Alphabet Tree. I asked him, "would you like to make your own alphabet tree?" Of course, the answer was, "YES!"
I am learning that every art project I do with my children is much better when it is all THEIR work (and not me trying to make it "pretty" to grown up eyes), so I had him do most of the work. I cut out a simple leaf shape from construction paper, but had him draw the tree and trunk and paste them on where he wished. I would have liked it if there were more leaves filling it out, but when he was done, he was done and I didn't want to tamper with his work by adding more.
The wonderful thing is that this particular book can be used for a wide range of ages. The storyline begins with a tree full of letters. The letters learn that they can group themselves into small words. The small words learn that they can group themselves into bigger words. Then they learn that they can form both short and long sentences.
Big Littles knows all of his letters, and this was a good review for him. We made his name with the leaves, but for now, I kept it as simple as that. An older child could use this project to practice putting together words and even sentences.
I didn't plan this lesson... I really don't plan any lessons at this point, I just try to seize the moments as they come. What spontaneous learning moments have you had lately?