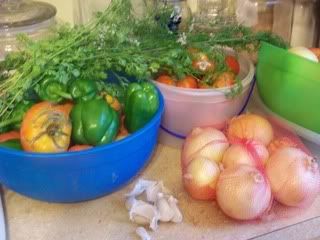 This is my tried and true salsa recipe. It is really delicious and a jar of salsa makes a great gift! I try to make at least two batches every year so we have plenty to eat and share. When you are ready to make this, make sure your kitchen is well-ventilated. The fumes from all of the peppers and onions are quite strong!
For basic information on home canning, see this post:
Home Canning Basics
Ingredients:
- 10 lbs. tomato, chopped
- 6 med. onions, chopped
- 3 c. assorted bell peppers, chopped & seeded
- 12 jalapeno peppers, chopped & seeded**
- 5 chili peppers, chopped & seeded**
- 10 garlic cloves
- 1 1/3 c. white vinegar
- 1/3 c. chopped cilantro
- 1/4 c. salt
- 1 1/2 tsp. black pepper
- 1 1/2 tsp. cayenne pepper
- 1 tsp. cumin
- 1/4 c. white sugar**
- 1/4 c. brown sugar**
- 2 tbs. lime juice
- 3 cans tomato paste
Directions:
Combine all ingredients in a large stock pot. (Use latex gloves when preparing hot peppers.) Bring to a boil, then reduce heat. Simmer for about an hour stirring occasionally, and paying attention towards the end to be sure it isn't sticking to the bottom. Ladle into hot jars leaving 1/4" headspace. Cap and process for 15 minutes in a water bath canner. Remove jars, let cool, and enjoy!
Number Of Servings: between 12 - 15 pints
**Note - this recipe is great for northern/Siberian tomatoes like "Early Girls", which tend to be very acidic. In our current home with a more temperate climate with different tomato varieties, this recipe ends up being way too sweet to me. I currently adjust the recipe to add half again the amount of hot peppers, and I leave out all of the sugar. It all depends on your tomatoes and personal preferences, but this recipe is a good starting point.